Have you recently found out about GoDaddy Premium DNS and want to know more about it? Here is an honest and detailed review of this add-on service offered by GoDaddy.
Whenever you log in to your GoDaddy account to check a domain, you receive a security warning from the host every time. This warning mentions that your domain is at the risk of getting hacked, injected with malware, or hijacked.
It then introduces you to its Premium DNS service to protect it from such dangers.
As a web developer, I have had the opportunity to closely deal with some of my clients using Premium DNS from GoDaddy. Considering their experience, I'd suggest you against using GoDaddy Premium DNS.
It is better to either transfer your domain to another registrar or purchase Premium DNS services from another provider.
Let's get into further details where I explain what GoDaddy Premium DNS is, discuss its pros and cons, explain why this service is not worth your money, and present you with a better alternative.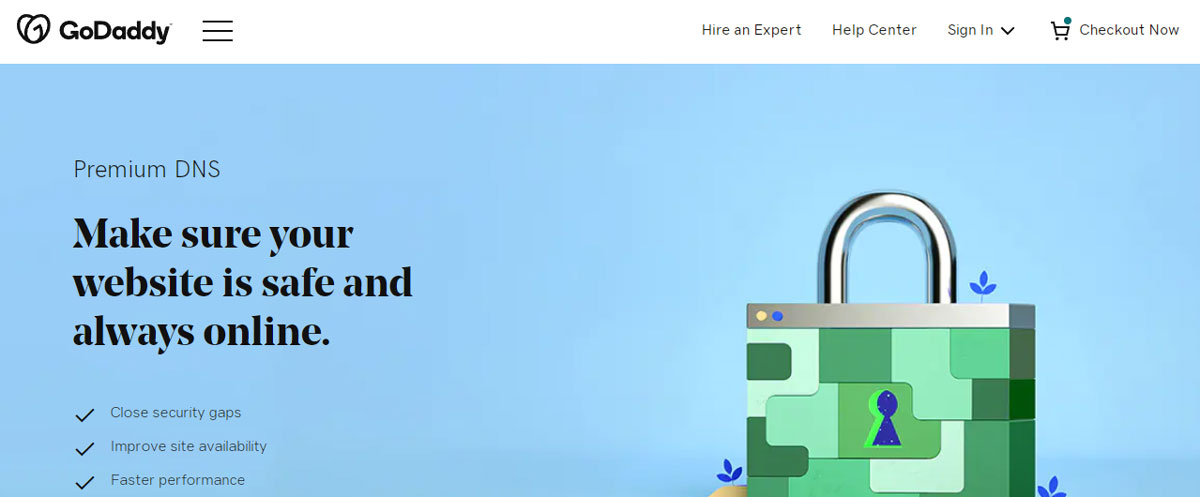 What is Premium DNS at GoDaddy? (review)
A Domain Name Server (DNS) directs your visitors to the correct IP address of your website but, at times, there can be some issues on the way. GoDaddy Premium DNS makes your website easily accessible to your visitors by directing them correctly to your IP address.
It also distributes your DNS data on different servers spread across the globe so that your visitors can be connected to the server closest to them. Establishing such shorter connections considerably improves your website load time.
GoDaddy Premium DNS also has a security feature called DNSSEC that prevents your website from DNS interception by hackers. This security feature has a positive impact on your PCI-DSS score.
Pros & Cons of GoDaddy paid DNS
Now that you are aware of the GoDaddy Premium DNS offering, let us get into its in-depth features to know its pros and cons.
NOTE: Before that, it is important to share with you that GoDaddy uses scare tactics involving the security issues of your website to incite you into purchasing its Premium DNS service.
But you shouldn't give in to such marketing tactics and let your fear lead to a purchasing decision.
Always decide to buy a website security service looking at its pros and cons and the protection it offers for your website or domain. So let us discuss the pros and cons of GoDaddy Premium DNS here:
Pros of GoDaddy Premium DNS
The GoDaddy Premium DNS offers the following pros to your website:
Domain security
The biggest benefit of this paid DNS service from GoDaddy is its security feature. The host offers Domain Name System Security Extensions (DNSSEC) that can be enabled to prevent hackers from hijacking your website or stealing your data.
This feature also prevents an attacker from spoofing your website and redirecting your traffic to a fake site. The host allows you to secure up to 5 domains under this service.
You can, however, secure more domains at additional costs.
Uptime guarantee
GoDaddy Premium DNS offers a 99.999% Service-Level Agreement (SLA) guarantee for the online availability of your domain. So the host assures you that your web-based systems will be available all the time.
Better performance
Premium DNS service offers better performance for your domain because of GoDaddy's Anycast DNS network spread across North America, Asia, and Europe. It ensures that your visitors access your website faster from any part of the world.
Unlimited domain management
GoDaddy Premium DNS allows you to manage DNS for an unlimited number of domains. Only its security feature i.e. DNSSEC is limited to 5 domains but the overall zone management is not restricted to any number of domains.
Improved reliability
The Premium DNS service also offers better reliability for your website. GoDaddy's Anycast network distributes your DNS data to multiple servers throughout the globe.
It ensures the availability of your website even if one of these servers goes down.
Along with eliminating a single point of failure for your website, the use of such a widely distributed network also protects your domain from DNS-targeted Distributed Denial of Service (DDoS) attacks.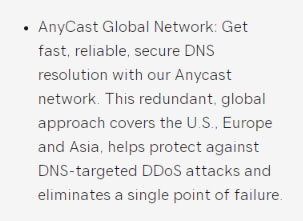 Beginner-friendly
GoDaddy's Premium DNS is easy to understand even for beginners. You can easily manage your domains and update your DNS settings through its beginner-friendly online dashboard. Its simple structure saves a lot of your time spent configuring your DNS services.
Powerful features
Though the GoDaddy Premium DNS is simple and easy, it comes packed with many powerful features. Bulk imports or exports, the grouping of zones, and creating templates for updating zones with common configurations are some very useful features when you are managing a lot of domains.

Cons of GoDaddy Premium DNS
Along with the pros listed above, GoDaddy Premium DNS also has some cons:
No escape from downtime
GoDaddy claims to provide 99.999% uptime with an SLA guarantee with its Premium DNS service but the chances of downtime remain. GoDaddy does not have reliable servers and your website's online presence might suffer even after purchasing this service.
There have been some instances when the users of GoDaddy Premium DNS suffered due to unexpected downtime. Please look at the images shared in the "user reviews" section below.
Missing a Dynamic DNS client
GoDaddy's nameservers do not support Dynamic DNS (DDNS). So the Premium DNS service from GoDaddy cannot update your IP address dynamically.
This is what a GoDaddy employee revealed on the community platform maintained by the host:
You can check out the detailed query by the GoDaddy customer at the following link to its community page:
https://community.godaddy.com/s/question/0D53t00006VmU0qCAF/dynamic-dns-updates
Expensive
You will find several free alternatives to the GoDaddy Premium DNS service that offers better features. But the host charges a fixed monthly amount for this DNS service instead of providing it for free to its customers.
No option for custom nameservers
GoDaddy does not allow masking with custom nameservers. So its Premium DNS service is not for you if you do not have your nameservers with GoDaddy and plan to use external nameservers.
GoDaddy Premium DNS cost
GoDaddy Premium DNS costs $2.99 per month and the host allows you to purchase it for a period of 1, 2, 3, 5, or 10 years. By default, the term of 60 months is selected on the GoDaddy checkout page.
The price remains consistent at $2.99 per month, no matter which term length you choose. So, you can go for a shorter term in the beginning if you want to try out the service and commit for a longer term on renewal if you like it.
The renewal price of this service from GoDaddy remains the same as that of its initial cost at $2.99 per month.

GoDaddy used to offer a 30-day money-back guarantee with its Premium DNS but I couldn't find any mention of it on their website at the time of writing this article. So I decided to check with the host's customer support executive via live chat.
This is the reply I received when I shared the link to the GoDaddy Premium DNS service and asked about the availability of any money-back guarantee:
The link to the service that you have shared is for Premium DNS. If it does not work for you, you can have a refund within 5 days of registration.
It comes under the category of "all other products". Refund is eligible within 5 days for when it's for a monthly subscription, and eligible within 30 days when it's an annual subscription.
GoDaddy Premium DNS vs Cloudflare – Best alternative?
Since GoDaddy Premium DNS has many shortcomings, you must look for some better options available in the DNS market. One such excellent service is offered by Cloudflare which is free to use.
Let's compare some of the major differences between the GoDaddy Premium DNS and Cloudflare DNS:
Costs: The biggest difference between the GoDaddy Premium DNS and Cloudflare DNS lies in their costs. While you can get the Cloudflare DNS for free, you will have to pay monthly costs for the GoDaddy Premium DNS service.
Locations: Another major difference between the DNS service offered by these two companies lies in the coverage they offer. Cloudflare has a much larger network than GoDaddy. It has a massive infrastructure built specifically for DNS with a low-latency environment. The Anycast DNS network of Cloudflare is spread across more than 250 cities globally.
Speed: Cloudflare DNS is one of the fastest DNS services in the world. So it offers better speed than the GoDaddy Premium DNS. The free version of GoDaddy DNS is even slower than its Premium version.
Nameservers: One of the biggest advantages of using Cloudflare DNS is the possibility to use custom nameservers. Where GoDaddy does not allow you to use external nameservers, you can choose to maintain your DNS infrastructure with Cloudflare and use it as a secondary DNS.

Since Cloudflare offers more powerful DNS features than GoDaddy and it is available for free, I'd recommend using Cloudflare DNS instead of the GoDaddy Premium DNS service for your domain.
Some user reviews
GoDaddy DNS is unreliable since many of its users experience occasional downtimes despite paying for the premium version of its DNS. Please take a look at these pictures confirming the unreliability of the GoDaddy Premium DNS:

As seen in the pictures, GoDaddy's paid DNS is still very unreliable even after offering a 99.999% uptime guarantee. So it is better to avoid using this DNS service to prevent any downtime for your domain.
Have a look at the tweet posted by GoDaddy and the full conversation at this link:
https://twitter.com/GoDaddyHelp/status/507184918531538944
GoDaddy DNS Tests
You can check the performance of different DNS services online with a tool called DNSPerf. It tests the speed of queries made directly to nameservers. GoDaddy shows below-average performance in the test and stands below 25 other DNS service providers at the time of writing this article.

With GoDaddy standing at number 26, it is clear that the DNS offered by the host is quite slow which, in turn, will impact your website's performance. The above-mentioned tool updates the DNS data on an hourly basis.
You can check the current performance of the GoDaddy Premium DNS with this tool by following this link:
NOTE: The uptime delivered by GoDaddy is average. For instance, one of the host's nameservers, pdns06, had the worst-case availability rate at 99.98%, worst-case instances of downtimes at 6, and the worst-case duration for downtime at 32 minutes in 3 months.
Another GoDaddy's name server, pdns05, showed pathetic results at a 99.42% worst-case availability rate, 75 instances for worst-case downtimes, and 13 hours of worst-case duration in 3 months.
All this information comes directly from one of GoDaddy's customers and dates back to 2015. Since then, GoDaddy Premium DNS has gotten worse as can be seen from its customers' reviews displayed above.
The uptime results for its service are way below what any average hosting DNS should deliver. Keep in mind that this is Premium DNS with SLA that's supposed to avoid any downtime, so it doesn't perform as close to what it claims.
Review: Is GoDaddy Premium DNS worth it?
In my opinion, a basic service like DNSSEC should be available for free. Cloudflare offers the same functionality and even additional features in its free DNS service. If you are concerned about the online availability of your website, Cloudflare is more reliable than GoDaddy and offers a 100% uptime guarantee with SLA.
The GoDaddy Premium DNS lacks in many aspects. It is slow, unreliable, and has a limited presence worldwide.
So it is better to transfer your domain to Cloudflare as soon as your domain registration period expires at GoDaddy or when you are ready to renew your domain for additional years.
If you are running a critical application that demands 100% online availability and super-fast name-to-IP conversion, moving to another reliable and faster premium DNS will be the best option.
FAQ
📌 Does GoDaddy provide free DNS?
Yes, GoDaddy offers a free DNS service for managing your zone files but it has very limited features.
📌 Does GoDaddy offer DNS failover?
No, GoDaddy does not offer DNS failover with its free or Premium DNS.
📌 What is the difference between GoDaddy Standard DNS vs Premium DNS?
GoDaddy Premium DNS is a managed DNS solution with advanced features. It offers more reliability, faster availability of your website to your visitors, and better security from hackers and domain spoofers.
📌 Do I need Premium DNS?
DNS is beneficial for all domain owners but you do not need to pay for it. So Premium DNS is not an essential addition to your domain. You can choose to go with a free DNS service like the one provided by Cloudflare.