Do you want a cheap high storage VPS? If yes, then this guide is for you. We will see some of the amazing servers with high storage capacity at affordable prices and the best security. It will include all the necessary features that you might need in your server.
There might be many reasons why you need a virtual private server with higher storage. Some of the common reasons to get such servers include:
Having a server for backup.
Archiving the files.
Storing huge eCommerce files.
For media and zip files.
Torrent files.
To expand the disk space of your current server.
Or, it can be simply for a big website.
Either way, you will surely find the best servers here.
Hosting plans
Disk space
Disk space
400 GB ⇢ 3.2 TB (SSD)
256 GB ⇢ 8 TB
128 GB ⇢ 4 TB
Starting Price
Starting Price
$8.49/month
$2.60/month
$1.38/month
9 Cheap High Storage VPS
We will now have a quick look at the best VPS services which have a huge storage capacity. To make your work easier, we have also included the top features here. With that being said, let's begin the list and see the storage servers.
#1 Contabo
When it comes to VPS with high storage space, you can always go with Contabo. It's one of the best virtual servers for storage. You get the data centers in the key region which make it a great choice. You can use this for heavy-load websites.
Contabo has received various awards and recognition for the uptime and the speed of their servers. Therefore, you can rely on the server and transfer big files. You don't need to worry about connection interruptions while transferring big files.
Further, the server is fully customizable. You can choose your favourite OS and then set the server configuration as per your need. The storage space is large and the price is also reasonable. One of the best things also includes the CPU. The cores have a high power which will increase the performance of the server.
Storage

: 200 GB to 1.6 TB (SSD)

Backups

: Additional space available

Bandwidth

: 32 TB Traffic

Uptime

: 99.9% with uptime monitoring

CPU Core

: 2 vCPU Cores to 8 vcores

RAM

: 4 GB to 32 GB

Price range

: $8.49 to $40.49
Visit Contabo

#2 Time4VPS
Time4VPS is a great service that you can use if you have fewer requirements. The above VPS storage started from 300 GB. There are various plans from which you can choose. If you want to save some money, it's the best choice you can go with. Each plan comes with all the features you will need including server reboot and emergency access control.
The server can be scaled up to 8 TB and you can also go with 0.25 TB. So, it doesn't matter what your requirements are, you will get the best plan here. They have a plan for the smallest requirements too. You get complete root access to your server to control everything you want. To get a bigger discount, you can go with their annual plans.
Storage:

250 GB to 8 TB

Backups:

No

Bandwidth:

2 TB to 64 TB

Uptime:

99.98%

CPU Core:

1vcore

RAM:

0.5 GB to 16 GB

Price range:

€1.25 to €54.99 (Annual plan)
Claim Time4VPS (50% OFF)

#3 AlphaVPS
Want affordable KVM storage in Europe? AlphaVPS is there for your rescue. It has a premium network with tier 1 data centers. RAID 60 HDDs with full root access are some great advantages of going with the AphaVPS. The plan starts at 128 GB and as you go into the higher price range, you will also get better features.
It's based on KVM and is fully customizable. You can choose your OS and get started with the server. Unfortunately, there are no backups taken. However, it's not a big issue as the majority of such services don't have automated backups. You will have to take them manually if you want them. They also have 24/7 support. The support team is professional and will help you with all your doubts.
Storage:

128 GB to 4 TB

Backups:

No

Bandwidth:

500 GB to 10 TB

Uptime:

99.9%

CPU Core:

1 to 4 cores

RAM:

512 MB to 4 GB

Price range:

€1.25 to €20
Start with AlphaVPS

#4 NexusBytes
Nexus Bytes is a great KVM-based VPS you can go with. The storage server by Nexus Bytes is mostly for taking backups. You can surely use it in the way you want.
They have servers in the US and UK. So, it will be beneficial if you have traffic from these places. The uptime is great. They are maintaining almost 100% uptime. However, their uptime guarantee is a bit less (99.9%). So, you can trust the website when it comes to uptime.
They have various plans from which you can choose. If you can't choose a perfect plan, there is a contact option where you can directly ask them. The price is also affordable. So, it's a good choice to go with.
Storage

: 500 GB to 5000 GB

Backups

: No

Bandwidth

: 2500 GB to 25000 GB

Uptime

: 99.9% (guarantee)

CPU

Core: 2 to 4

RAM

: 0.5 GB to 5 GB

Price range

: $3.20 to $26
Visit Nexusbytes

#5 Hostens
Hostens is yet another cheap VPS server you can go with. If you compare the server storage with the pricing, you will find it very affordable. The storage starts at 256 GB and you can go up to 1 TB.
You can save more money if you go with the three years plan instead of the annual plan. The access time and scalability are great here. You can easily upgrade anytime you want without having to restart your server. This makes so many things easier.
They got various VPS plans to serve different needs. As of now, we are focusing on the storage server. The best thing here is that the renewal price is less as compared to other virtual private servers. So, it will help you in maintaining the cash flow in the future.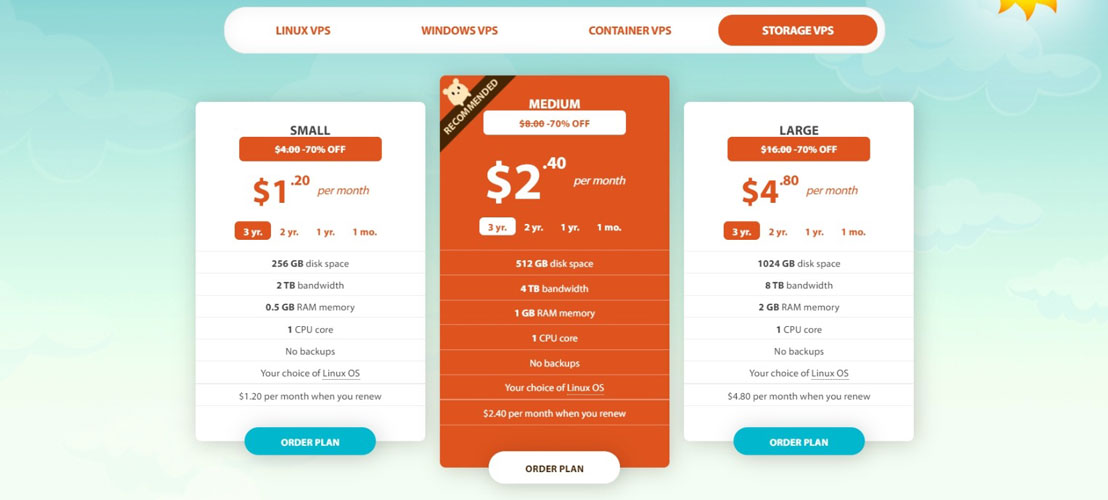 Storage

: 256 GB to 1024 GB

Backups

: No

Bandwidth

: 2 TB to 8 TB

Uptime

: 99.95%

CPU Core

: 1

RAM

: 0.5 GB to 2 GB

Price range

: $1.20 to $4.80 (for 3 years plan)
Activate Hostens Discount (70% OFF)

#6 Gcorelabs
G-core Labs is a good pick for you if you want the storage cloud. Here, you can go with the storage plan only. It has cloud storage which you can use as a CDN or for any other purpose. Their VPS plans have less amount of storage (maximum up to 30 GB). Therefore, you can go with their storage plan instead.
The storage plan has a capacity of 12 TB. You can even increase the storage beyond if required. Therefore, it becomes a great plan for you to go with. You can connect to storage via SSH and similar protocols. If you are planning to have a complete web app, you should also check out their VPS plans. Here, we will talk about the storage plan only.
Storage

: 5 TB to 12 TB (Overage available starting from 0.024 per GB)

Backups

: No

Bandwidth

: 5000 GB to 20,000 GB

Uptime

: 100% (user claimed)

CPU Core

: Not available

RAM

: Not available

Price range

: €120 to 400

Pay as you go plan

: €0.04/GB
Visit Gcorelabs

#7 Vultr
Vultr is one of the cloud VPS hosting services that have a great storage capacity. It's always great to have a cloud with decent storage space. The bandwidth here is excellent and you can always scale it as per your need. As it's the cloud, there are a lot of resources for your web app. You can increase the storage by paying an additional fee for every extra GB.
As it's a full-service cloud provider, you will get many good features like support, an easy-to-use control panel, automatic backups, etc. You can choose the amount of storage you want. Further, you can also manage it through S3 API.
Storage

: 250 GB to 1000 GB ($0.02 for every extra GB)

Backups

: Automatic backups (no extra storage)

Bandwidth

: 1000 GB to 10,000 GB ($0.01/GB for extra bandwidth)

Uptime

: 100%

CPU Core

: N/A

RAM

: N/A

Price range

: $5 to $20
Visit Vultr

#8 Ikoula
Ikoula provides NAS Synology server. These are the servers that specialize in storage. Therefore, if you are looking for a storage server, you can surely start using this one. It includes free setup and the server is highly secure. So, if you are looking for a storage server with the highest security, you can always check out Ikoula's Synology server.
They have a 2 TB hard disk. You can choose how many hard disks you want in the storage cloud. If you want extra storage, you can add the extra hard disk at an extra cost. The monitoring station will help you to have a quick look at all the things happening around you.

Storage

: 2 TB to 8 TB (4 TB extra available for an extra charge)

Backups

: Yes

Bandwidth

: High performing bandwidth

Uptime

: N/A

CPU Core

: 1

RAM

: 256 MB to 2 GB

Price range

: €10.49 to €69.99
Visit Ikoula

#9 Kamatera
Kamatera is a famous cloud provider. Their storage server is something that you can surely check out. It has a pay-as-you-go pricing model which makes a lot of things easier. You are only paying for the storage you will need. In this way, you will save good money. They have a decent uptime and the bandwidth is pretty good. The panel might become a bit complex for new users. So, you can keep that in mind.
The company is known for its security and support. If these are the things you want on the server, you will love them. Please note that it's an object storage cloud server and not the entire VPS. There are various use cases for this. You can use it to expand the disk capacity or you can even use it for eCommerce and moving servers.
Storage

: Pay-as-you-go

Backups

: Offline backups

Bandwidth

: 20,000 IOPS for each cloud block storage object

Uptime

: 99.95%

CPU Core

: Block storage

RAM

:  N/A

Price range

: 0.05$ per GB per month
Visit Kamatera

What to look for when buying a VPS with high HDD storage capacity?
Wondering about the things you need to look for when you are getting a VPS with high HDD storage capacity? Here are the things to look for.
Capacity

: Capacity is the first thing to see (of course). You can see the maximum storage available and also see if there is additional storage available for the extra cost. You can also check the storage type (HDD, SDD, or NVMe).

Bandwidth

: Bandwidth will be limited as you are using VPS. When you go with high storage servers, you will need decent bandwidth as well.

CPU/RAM

: Don't forget to check out the CPU cores and the RAM capacity. The RAM size depends on the storage.

Special features

: Special features include backups, security, and data center locations. You should see if there are automated backups or not. Most of the VPS have decent security. So, this is not something that you need to stress about. You can also see the data center locations if you have traffic from a specific location.

Price

: Always keep in mind the price before you go with the VPS. The pricing for the first invoice is less but the renewal charge will increase. So, keep your long-term vision in mind and plan accordingly.

Scalability

: You should see other plans as well. You might need to upgrade to more storage. See if there is any way to buy additional storage. This depends on the type and the amount of data you have, considering present and future plans.

Uptime

: In all this rush, don't forget to look for the uptime. You don't want the server to stop responding when you are at 99% progress on transferring big files
Final Words
To conclude, these were some of the best VPS providers with big storage capacity. You can go with any of these as per your choice. Make sure you keep in mind the things that we discussed in the end.
Always think of the long term and take the decision accordingly. The price mentioned here is for the first invoice. The renewal rates will be higher in the majority of cases. So, keep that in mind.
Feel free to comment if you think we missed any.