Here is a detailed comparison between Wordfence free vs premium versions to help you decide which one will be beneficial for your website security needs.
I've been using Wordfence premium for 2 years now and can share the inside details with you of what to expect. By using the premium version of this security plugin, what I noticed is that the attacking attempts on my website increased considerably as the traffic grew.
A flourishing website becomes more visible to people in general and hackers in specific. So you must expect more hacking attempts as your website grows and traffic increases. Let's see how Wordfence can help you in this regard.
Wordfence Free vs Premium Summary
Wordfence Premium offers better website protection than the free Wordfence version. You will receive real-time updates to all threats and vulnerabilities with the premium version whereas the free version delays these updates by 30 days.
In this article, you will get to know the differences between the Wordfence free and premium versions in detail. I'll also discuss the situations where these versions can be used, the cost of the premium version, and the best alternative to the Wordfence security plugin.
Best use cases
Wordfence Free is the best option when you are running a small website and just worried about internal security threats.
On the other hand, Wordfence Premium is the best option when you are running a large website or an eCommerce store and are worried more about external security threats.
To know the detailed differences between the two Wordfence versions, read the next section that presents it in an easy-to-grab form.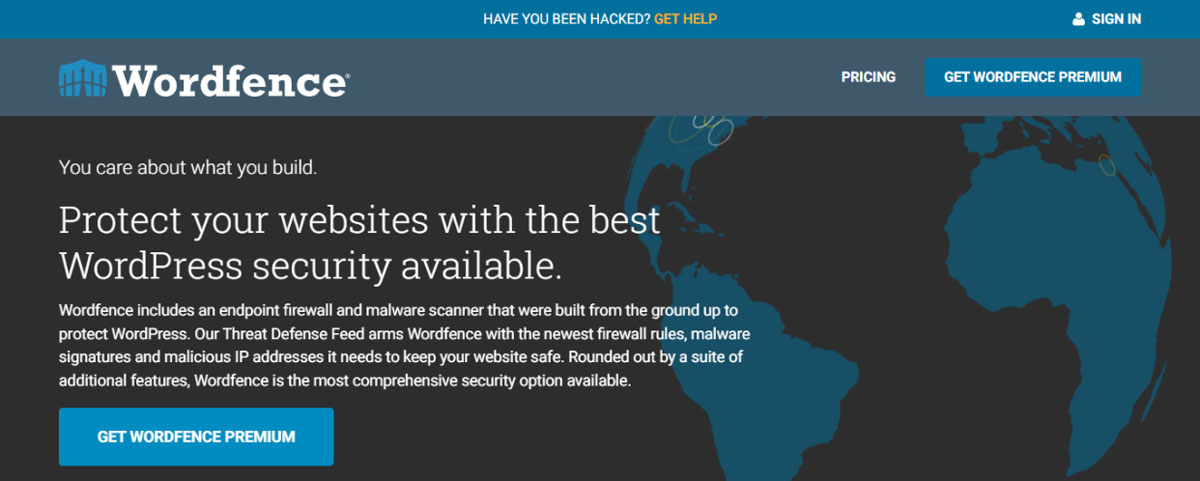 What is the difference between Wordfence Free and Premium?
Most WordPress security software only offers malware scanning for your website. But Wordfence offers protection from malicious traffic through its Web Application Firewall (WAF) in both its free and premium plans.
Let's look at the differences between the free and premium Wordfence versions here:
| | | |
| --- | --- | --- |
| Basis | Wordfence free version | Wordfence premium version |
| Firewall rules | Firewall rules for protecting against new vulnerabilities are available after 30 days. | Firewall rules are updated in real-time to protect your website against new vulnerabilities immediately. |
| Scan scheduling | You won't find an option to schedule your scan in the free Wordfence version. | The premium Wordfence version allows you to schedule scans as you desire. |
| Scan malware signatures | Wordfence provides signatures to detect new malware after 30 days. | Wordfence updates scan malware signatures in real-time to offer website protection at all times. |
| Country blocking | You cannot block IP addresses from specific countries from accessing your website. | The paid Wordfence version allows you to block IP addresses from specific countries from accessing your website or the login page. |
| Real-time IP blocklist | Wordfence does not consider its real-time IP blocklist when automatically blocking IP addresses engaged in website attacks. | The paid Wordfence version protects your website from all kinds of attacks in real-time by considering the regularly updated real-time IP blocklist. |
| Checking website for blocklisting | No checks are performed to see whether your website is blacklisted for any reason. | Wordfence checks whether your IP or website is blocklisted for generating spam, malicious activity, or any other security issue. |
| License key | You will require a free API key for using this Wordfence version. | You will require a Premium API key for using this Wordfence version. |
| Customer support | Support is available via the forum page of Wordfence on the official WordPress website. Requests are usually answered in a few days. | Support is available via premium tickets where senior support engineers of Wordfence answer your queries within a few hours. |
When to use the Wordfence free version?
You shall choose the Wordfence free version when you are worried about the internal security threats of your website.
In other words, when some vulnerabilities arise from within your website, the free Wordfence version can help sort the issues. These vulnerabilities can be in the form of corrupted or outdated plugins, nulled themes, outdated WordPress core files, etc.
Who is it for?
Wordfence free version will be suitable for you when:
You need a sturdy Web Application Firewall (WAF) for your website.
You are running a personal or small website receiving little to moderate traffic.
You are looking for an easy solution to increase your website security.
You should consider the Wordfence premium version when you are worried about external security threats to your website.
In other words, when attacks and vulnerabilities arise from outside of your website, the premium Wordfence version can offer some help. These vulnerabilities can be in the form of malware attacks, brute force login attacks, or other malicious activity.
Who is it for?
Wordfence premium version will be suitable for you when:
You are looking for real-time security updates and blacklisted IP addresses.
You are running an eCommerce website or other serious online business.
Your website is growing and constantly receiving security threats and attacks.
You wish to block specific countries from accessing your website to minimize the casual hacking attempts that your website is receiving from that particular region.
Your website runs on a shared hosting plan. Wordfence premium version can protect your website from getting contaminated even if another website on the same server gets hacked.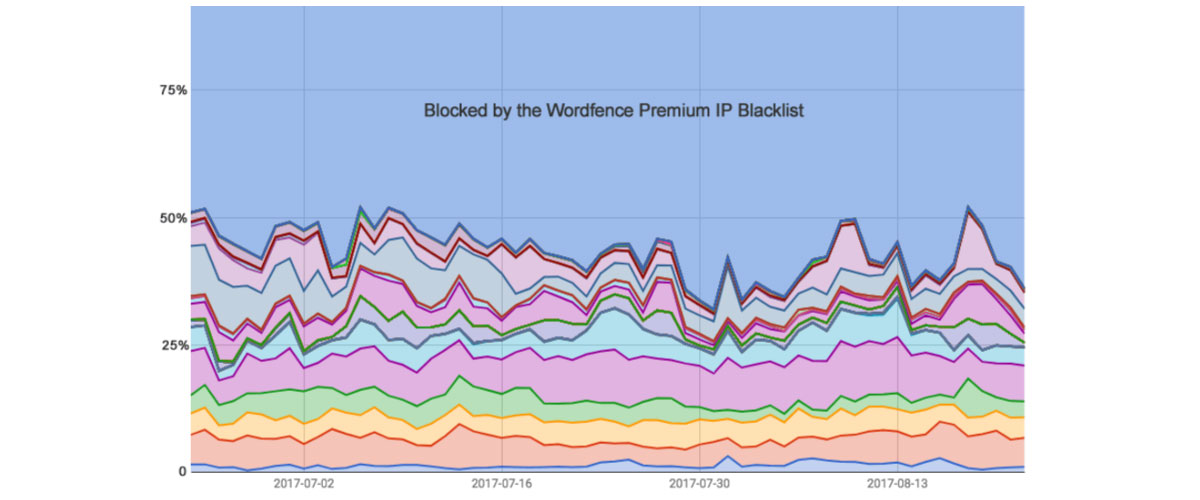 How much does Wordfence Premium cost?
The pricing of Wordfence premium is based on the number of WordPress installations you wish to protect. So you will have to purchase multiple Wordfence Premium license keys in case you want security for multiple WordPress websites.
The initial cost of Wordfence Premium
The company allows you to purchase premium license keys in one-year increments. You can also buy them for multiple years upfront to benefit from one-time discounts. A 2-year license comes with a discount of 10% and a 3-year license offers a discount of 20% on the initial license cost.
The yearly cost of Wordfence premium for a single website is $99. The company offers a discount for purchasing multiple license keys as shown below:
| | | |
| --- | --- | --- |
| Number of active licenses | Price per license | Discount available |
| 1 | $99.00 | NIL |
| 2 to 4 | $89.10 | 10% |
| 5 to 9 | $84.15 | 15% |
| 10 to 14 | $79.20 | 20% |
| 15 and more | $74.25 | 25% |
The renewal price of Wordfence premium depends on the number of active license keys in your Wordfence account at the time of renewal. More count of active license keys will bring in heavier discounts in the renewal prices.
Since the renewal price depends on the number of active licenses in your account, the renewal price of each Wordfence premium license will vary throughout the life of your license.
NOTE:
When you add more licenses to your account, the renewal price will decrease due to additional discounts. On the other hand, when you remove some licenses from your account, the renewal price will increase due to reduced discounts.
Wordfence sets all your new license keys for automatic renewals. So you must disable them from your Wordfence account if you do not wish to renew any of the premium licenses.
You will receive a notification ten days before the expiry of any of your license keys. You can, therefore, let it renew automatically or disable the renewal depending on your preference.
Best Alternative to Wordfence
Wordfence is just a WordPress security plugin but true website protection takes place outside of the core WordPress environment. So, it all comes down to your website hosting at the end. An excellent host will efficiently handle most of the security issues for your website.
Why should you consider a better host?
Security plugins like Wordfence generally give a false sense of security and are just an additional load on your server. They can be good to have for extra security, but they are not perfect, therefore you can't count on them alone to protect all your website from all sorts of threats.
A virus or malware can easily modify a WP security plugin just the way it can impact WordPress on a default install.
It is because these plugins live in the WordPress environment which you are trying to protect. So we cannot truly call them a firewall as they are not protecting the WordPress environment from the outside.
NOTE:
Just the way Windows security apps and Windows Defender live in a protected space in the operating system, a website firewall needs to be concealed from the WordPress environment. Only then will it be able to offer complete protection for your website.
So you must consider choosing a Web Application Firewall that is not inside the WordPress environment. It is easy for hackers to inject malicious code into Wordfence and other such plugins that work inside WordPress and you will find them much later.
On the other hand, if you have a firewall operating in front of WordPress, it will be easier for you to detect malware attacks on your website immediately.
If you are truly concerned about the security of your business and website, please check out this next section that offers an excellent hosting recommendation for the additional security of your website.
Hosting Recommendation
A host offering cheap hosting plans will probably compromise the security of your website. So always choose your host wisely while maintaining a balance between the features it offers and the website budget you have set apart.
Consider choosing Cloudways hosting as it is available for about the same price as that of Wordfence Premium. It is a managed hosting provider that takes care of your website security needs along with other major hosting aspects.
Cloudways offers website security at the core via OS-level firewalls and, therefore, provides better protection to your website than Wordfence Premium. Apart from that, you will get the following security features from the host:
Cloudways regularly performs security patching on your server to prevent the occurrence of vulnerabilities.
It allows you to create a whitelist of IP addresses for easier collaboration with preferred networks or regions.
It offers a free Let's Encrypt SSL certificate with easy 1-click installation.
The host offers two-factor authentication to prevent an intruder from entering your server.
Cloudways has partnered with MalCare to offer bot protection to your WordPress website. It prevents your site from brute force login attacks, malicious bots, and Denial-of-Service (DDoS) attacks.
No, it is not worth buying the premium version of Wordfence. Though it can be a great security option for beginners, your website needs additional layers of protection at the server and network levels as it grows.
Personally, I still use it because it gives me peace of mind. So extra security doesn't hurt 🙂
Choosing a good host that regularly updates your software, offers server-level backups, and protects your website from outside attacks is the better option when considering long-term website security.
But if you cannot afford to move your website to a better host or want to use a security plugin for other reasons or just want a free firewall for your website, Wordfence offers a sturdier solution. In such a case, I'd recommend pairing it up with a free yet reliable CDN, like Cloudflare, to add more security to your website on the network level.

FAQ
📌 What is Wordfence Premium?
Wordfence Premium is a paid WordPress security plugin offering website protection through an endpoint firewall. It offers malware signatures, a list of malicious IP addresses, and firewall rules in real-time to provide complete website protection at all times.
📌 Is Wordfence Free good?
Yes, Wordfence Free is a good and reliable security plugin as it is capable of providing solid security to WordPress websites with a powerful Web Application Firewall (WAF).
📌 Which is better: Sucuri or Wordfence?
When choosing between Sucuri and Wordfence, Sucuri is a better choice for businesses. Where Wordfence operates on your server, Sucuri operates on a separate server thereby consuming none of your server resources. It won't be a burden on your server like the Wordfence plugin.