Are you planning to buy WP Engine WordPress hosting and looking for a professional email as well? In most cases, it is easier to purchase your web hosting and email hosting plan as a package.
So if you are looking for such a deal from the host, let's explore the options you have. This article aims to answer all your queries related to WPEngine email hosting.
But first, let's address the most important question in our next segment.
Does WP Engine offer email accounts with its hosting package?
No, WP Engine does not offer email accounts with any of its hosting plans. The company prefers to focus on its WordPress hosting services for now. However, WP Engine offers some limited email functionality.
WP Engine recommends its customers to use a third-party plugin like Mailgun or SendGrid for managing professional emails and ensuring their successful deliveries. It is because the mails sent from WP Engine's mailing system end up as junk or spam in many cases.
WP Engine's platform is unable to support even the basic email functionalities that are necessary for finishing many useful tasks in WordPress, including:
New user registrations
Contact form queries
Comment notifications
So I recommend using a third-party email provider to ensure deliverability and utilize the power of WordPress to the fullest.
Why doesn't WP Engine offer email hosting?
As explained earlier, the company believes that it is better to concentrate on what one is excellent in. So WP Engine focuses on offering only the best quality of WordPress hosting experience.
And it leaves the task of email hosting to third parties that are already doing good in the email service world.
The company, therefore, recommends using a high-quality email hosting provider for robust delivery. It, in turn, helps WP Engine's server to offer efficient performance and security for your website.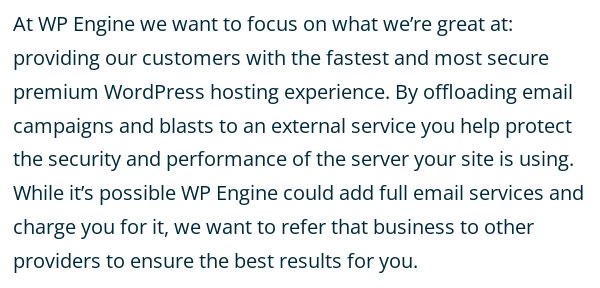 Honestly, you might find many hosting companies offering email services but none will provide reliability or guarantee deliverability for emails sent from their servers. So you cannot trust any of them for your business email campaigns.
It is mainly because the hosting companies invest in the infrastructure that is specifically suitable for web hosting services. On the other hand, specialized email service providers use email-specific infrastructures.
So they are in a position to provide excellent email hosting services.
Which email hosting can be used with WP Engine? (3 options)
Now that you know WP Engine does not offer a fully functional email service, let's find out which email hosting is best for your website when using WP Engine's hosting services:
Option 1 – G Suite
G Suite is a set of productivity apps offered by the tech giant Google. It has been renamed Google Workspace and includes email hosting for small organizations and teams.
It comes with dozens of collaboration tools to help you improve the efficiency of your business, including but not limited to:
Gmail
Drive
Sheets
Docs
Calendar
Meet
Chat
Slides
Sites
Forms
You can completely trust Google's spam filtering mechanism for your professional email. Also, it offers complete reliability, unlike deliverability issues when using WP Engine's email system.
Starting Price:
The plans start at $6 per month with 30 GB of storage for each user. All Google Workspace plans come with a 14-day free trial offer.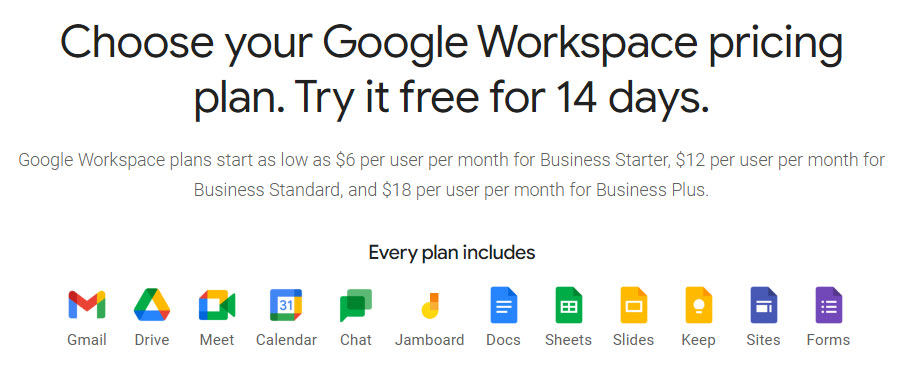 The company also offers custom plans for large organizations, so you can stick with Google Workspace even when your business grows.
Here's how you can collaborate with your entire team with the help of tools offered by Google Workspace:
https://www.youtube.com/watch?v=jgBp2BiJFJw
Visit G Suite

Option 2 – Rackspace
With an experience of over two decades, Rackspace offers excellent email hosting services for individuals and enterprises. The company provides 24/7/365 expert support and a 100% uptime guarantee.
Rackspace email also comes with a variety of productivity tools including calendars. It also offers Microsoft Office as an add-on to seamlessly access your business documents and emails from the same platform.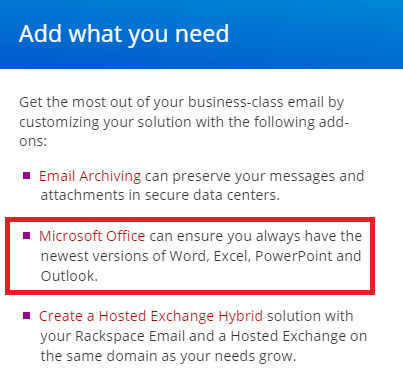 The email host offers a premium anti-virus and spam protection policy with all its email hosting plans. Rackspace also follows a strict ad-free policy for its email services. Moreover, it is extremely reliable and ensures the deliverability of your emails, unlike WP Engine.
Starting Price:
Rackspace email hosting plans begin at $2.99 per user per month and offer 25 GB of mailboxes. The company also allows you to try its email hosting services free for the first 14 days.
Watch this video to get started with Rackspace email hosting:
https://www.youtube.com/watch?v=rBAUpPOcatM
Visit Rackspace

Option 3 – Zoho
Zoho Workplace is another great option to host your custom business email. Along with the email hosting services, it comes with plenty of productivity and collaboration apps for smoother running of operations.
Zoho Workplace includes:
Email
Word processor
Chat
Presentation
File management
Spreadsheet
Online meeting
Social intranet
Together all these apps allow you to work with remote teams without any delays. You can, therefore, utilize them for improving productivity in your physical or virtual office.
Starting price:
Zoho mail plan prices start at just $1 per user per month with a 5 GB storage for each user.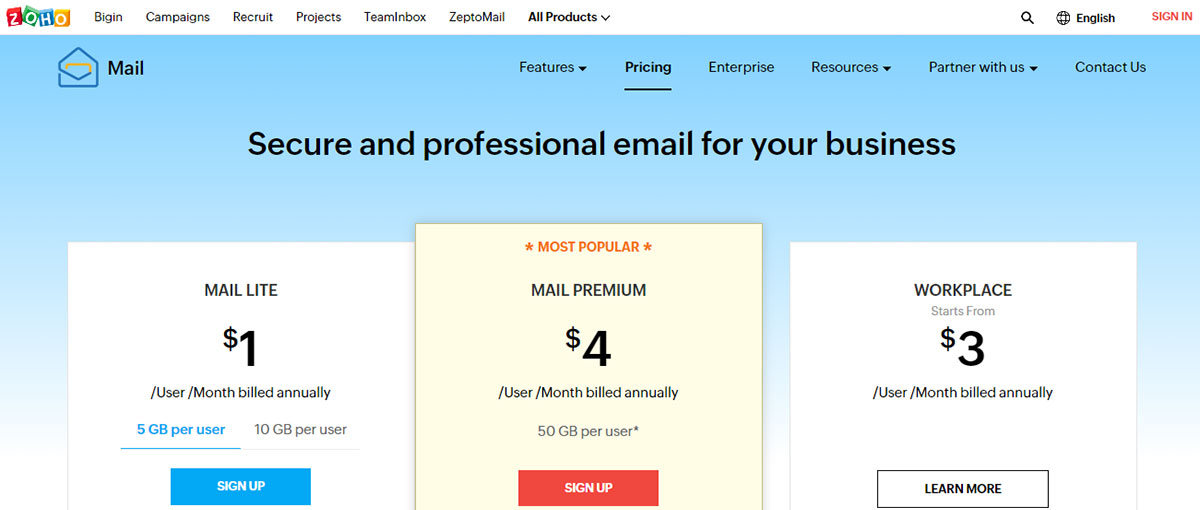 The email hosting provider also offers a 15-day free trial offer for its most popular plan.
NOTE: Additionally, Zoho offers a forever-free plan with 5 GB per user storage space. You can only add up to 5 users to this plan.
So if you are just starting with a small team of up to 5 members, you can consider utilizing this free email hosting plan and take advantage of premium services from Zoho. Upgrade your plan as and when your business and team grow!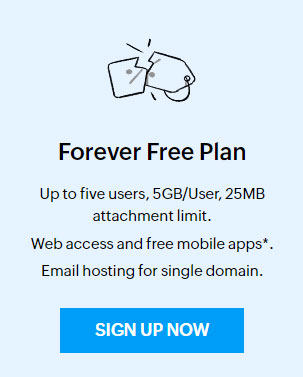 Here's a detailed video on YouTube that will help you start your journey with Zoho Mail without any issues:
https://www.youtube.com/watch?v=O_o2v7rUwDM
Visit Zoho

WP Engine Email Hosting – Customer Reviews
WP Engine customers have mixed responses about the non-availability of email with the hosting provider. Here are a few excerpts of reviews shared by WP Engine users:
In the screenshot below, one of the host's customers is complaining about the lack of email hosting service:
Again, another customer finds it inconvenient to use a third-party email provider with WP Engine hosting:
The picture below shows a customer is happy about the unavailability of email with WP Engine:
Verdict: WPEngine email hosting
Though the WordPress hosting plans from WP Engine come with an email service, you cannot completely rely on it. WP Engine's email hosting only offers the most basic features for sending emails but does not ensure their delivery.

On the other hand, specialized email service providers like SendGrid and Mailgun have trusted relationships with Spam control organizations and mail providers. That is why they can assure high email delivery rates.
Recommendation: In my opinion, it is always best to buy your website hosting and email hosting services from two different providers. You will receive better technical customer support and plenty of features when choosing specialized service providers for email and web hosting.
FAQ
Does WP Engine have cPanel?
WP Engine does not have it but provides an easy-to-use custom-created control panel. With the clean and intuitive interface of WP Engine's proprietary control panel, you will never miss the popular cPanel.
Is WP Engine a good host?
WP Engine is an excellent host when it comes to WordPress websites. But it is not good for email hosting services. You can rely on WP Engine for your web hosting needs only while choosing a third-party email provider for managing your email campaigns.
Can WP Engine host non-WordPress sites?
Unfortunately, no it cannot host WordPress sites. WP Engine was created to offer only WordPress hosting solutions. And the company sticks with its primary objectives until now. So, you cannot host a non-WordPress website on WP Engine's server.
Does WP Engine provide email?
WP Engine does provide an email but its functionality is very limited. You cannot trust the host for successful deliveries of your emails. WP Engine itself recommends using a third-party email provider for the reliability and deliverability of your business emails.