Are you running a website that might be problematic for DMCA? If DMCA sends a notice to your web host a couple of times, they will disable your hosting account. That's clearly stated in the terms and conditions of the web host.
Therefore, it's not possible to argue with them. The only option you have is to do everything again in a new hosting package. Well, you can always find the best DMCA ignored hosting providers that ignore DMCA notices. Let's learn more about it before we get more into it.
What is DMCA ignored hosting and Offshore Hosting?
Offshore hosting providers are the hosting companies that have servers in the country where DMCA is usually ignored. These are the countries where you don't need to fear about speaking. In simpler words, these are the countries that believe in freedom of speech.
Many hosting providers ignore the DMCA. If there is any strike/claim through DMCA (Digital Millennium Copyright Act), the web host will simply ignore it. This is because DMCA is a law in the US and many countries don't follow it.
It's a copyright law but sometimes, people even file a false claim through DMCA to suppress the voice of smaller people. Hence, people prefer the hosting provider that supports freedom of speech.
If you are running any website where your voice is grounded, you can go with such hosting. These websites support freedom of speech.
Also, don't think that you can host anything on these websites. There are certain rules by the hosting service which you will have to follow. We will talk about it as we move further.
Offshore VPS
Offshore Locations
Offshore Locations
Russia, Ukraine, Iceland, Finland, Romania
Europe & Asia
Bulgaria / Finland / UK / Australia
Security Features
Security Features
SSL certificate, and DDoS protection
DDoS protection, Anti-hacking protection
Malware/Trojan protection, DDoS protection
Starting Price
Starting Price
$20.00/mo
$11.90/mo
$18.25
8 best DMCA ignored hosting companies
We will now see the list of the best offshore hosting companies. These are the best ones on the internet that are focused on privacy. They usually ignore DMCA notices as they support freedom of speech. However, some of them have their rules which you need to follow. Additionally, you need to focus on security features. Therefore, we have highlighted them in the given hosting list.
#1 Shinjiru
Shinjiru is considered the best DMCA ignored hosting company on the internet. It's in the budget and it will ensure that your privacy is protected in the best way possible. To begin with, you can pay directly via cryptocurrency. Further, the speed and the security of the provider are great. You can trust the website as it has been on the internet for more than 20 years now. Shinjiru is the first choice of people who want to have DMCA-free hosting.
Features like auto-migration and strong bolt are just the cherry on top of the pie. They have also got anti-hacking protection.
Offshore locations
Malaysia
Singapore
Hong Kong
Russia
Luxemburg
Lithuania
The Netherlands
Bulgaria
Security Features
Cisco, Dell, and Intel equipment
DDoS protection
Impenetrable Security
Strongbolt to operate website anonymously
Certified domain registrar
Great uptime of 99.9%
Payment Methods
Bitcoin
Ethereum
Card payment
PayPal
Perfect Money Payment
Wired transfer
Visit Shinjiru

#2 Alexhost
You know it's going to respect privacy at a new level when there is "Bitcoin" in the name of the hosting. Alexhost is a privacy-focused web hosting that ignores DMCA notices. It offers high-level security and the performance is also outstanding. Hence, it becomes the second-best web hosting service to choose if you want to have good privacy and want DMCA-free web hosting.
It has many good features. They have a decent 30-day money-back guarantee with a partial refund.
Offshore location
Chisinau – Republic of Moldova
Security Features
1TB Anti-DDOS Protection
Anonymous Domain Registration
IP rent blocks
If something goes wrong, they have 30 minutes of ticket response time.
Payment Methods
Bitcoin
Ethereum
DashCoin
LiteCoin
Tether
USD coin
Visit AlexHost

#3 Abelohost.com
Abelohost is one of the offshore web hosting services that truly believes in privacy. The website is available in English, Chinese, Japanese, and Spanish. They have different domains for the site. However, the location of the data center is common. The data is hosted in the Netherlands. Abelohost is one of the best hostings you can use. If you want to upgrade, you can surely go with DMCA-free hosting. There are many hosting packages to choose from such as shared hosting, VPS, dedicated server, etc.
Their infrastructure is great. Therefore, they also provide colocation services. You can surely take a look there if you want.
Offshore location
Security Features
Anti-DDoS protection.
Physical safety of data servers.
Privately own data servers.
Tier II data center.
They upgrade their hardware every year.
ISO 27001 & 9001 certified.
Payment Options
Bitcoin
Altcoins
PayPal
Credit card
IDeal
WebMoney
Bank transfer
Alipay
WeChat pay
Visit AbeloHost

We will now see some of the cheap DMCA ignored hosting services. If you don't want to spend more money, you can go with one of these companies. The shared hosting plans are preferred if you want to save money. However, if you want to go with these companies and money is not an issue, you can surely upgrade to a better plan.
#4 Flokinet.is
Want cheap and privacy-focused hosting? You can always go with FlokiNet. This company is a stable and 100% secure hosting provider. Not just in the regular data centers, you can also host your website in the Tor Network. If you look at the features, the pricing is a lot cheaper than it should be. Therefore, if you want to save some money, this is the choice for you.
There are still certain restrictions when it comes to copyrighted content. So, that's something you need to be careful of. However, freedom of speech is supported here.
Offshore location
Bucharest, Romania
Reykjavik, Iceland
Helsinki, Finland
Security Features
Tor Network
Onion domain
Denial-of-Service Mitigation (DDoS protection)
SSH and SSL
Autoscan addon that automatically scans the service
Payment Methods
Bitcoin
Litecoin
Dash
Perfectmoney
OkPay
Paysafecard
PayPal
Bank transfer
Cash payment by Post
Monero
Moneygram
Visit FlokiNET

#5 Webcare360.com
Webcare360 is a reliable and DMCA-free hosting that also offers a shared hosting package. Offshore hosting is mainly known for DMCA ignorance and reliability. If you are spending decent money and going with an affordable hosting package, then you should ensure that you are choosing a decent hosting company. Webcare360 is one of those reliable and stable companies to choose from.
Additionally, they have 99.99% uptime. Usually, the web hosting providers have 99.9% uptime. It has great privacy and you can surely ensure that your website is DMCA-free as long as you follow its terms and conditions.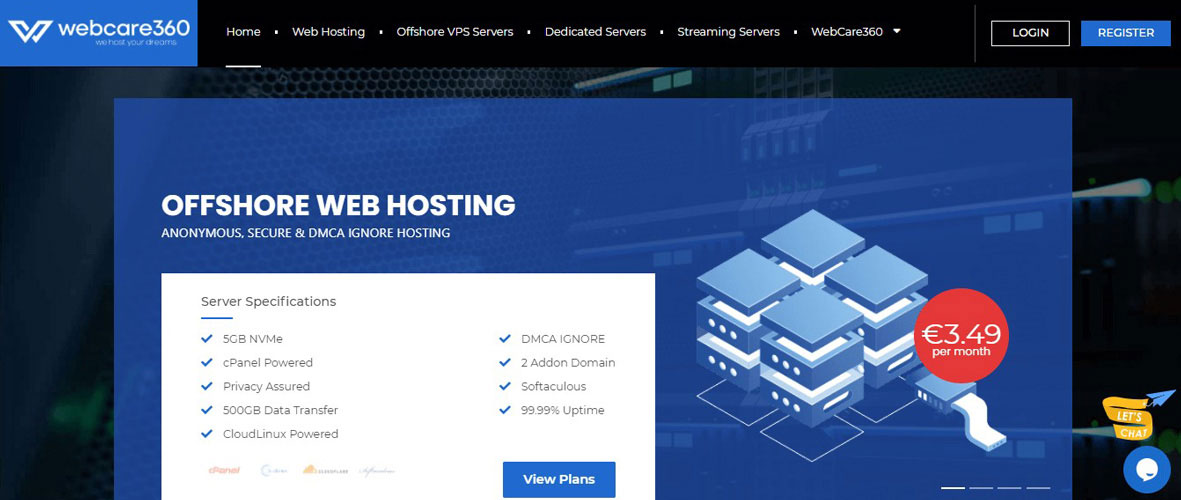 Offshore locations
Ukraine
Sweden
Russia
Netherlands
Poland
Bulgaria
Security Features
DDoS protection
Streaming servers available
Crypto accepted
Uninterrupted network
In case something goes wrong, they have got heroic support to help you.
Payment Methods
Paypal
Webmoney
Bitcoin
Skrill
PerfectMoney
Wire Transfer is also available with some criteria
Visit Webcare360

Best DMCA ignored VPS hosting
Now, we will have a look at some of the VPS hosting. VPS stands for Virtual Private Server. Here, you will get a decent part of the entire server with more control over your hosting account. It has better performance, security, as well as you get better control. We have already mentioned who should buy this. So, we will directly see the best VPS DMCA ignore web hosting providers.
#6 Theonionhost.com
How can we forget about TheOnionHost when we are talking about the best DMCA-ignored hosting services? It's one of the best service providers when it comes to VPS. The VPS plan is super-affordable and will give the maximum performance. You might have got the idea by the name that they care about privacy. You can choose from the KVM server or OpenVZ DMCA-ignored VPS.
There are many packages here from which you can choose. The good part is that there are very few restrictions. You can configure the VPS as per your need. Your VPS will be priced accordingly.
Offshore locations
Security Features
Tier 1 data center
DDoS protection
Branded server equipment
Support is available all the time
100% money back
Fast server setup
Free SSL
Payment Methods
IDeal
Bitcoin
Ethereum
PerfectMoney
Visa
Mastercard
PayPal
Sofort
Visit TheOnionHost

#7 OrangeWebsite
Orange website is a Webhosting with advanced security and privacy protection. Spam filtering along with freedom of speech protection will allow you to host any website here. It's made for journalists, publishers, and bloggers who want to express themselves which might be controversial or problematic. Hence, the pricing is low.
Orange website has the classic look and there are very limited features here. However, the pricing is great. Therefore, it's worth taking a look at. The best part is that it supports free speech and opposes NSA spying. Also, they are doing their part to save the climate.

Offshore location
Security Features
Professional spam filter with 100% accuracy in incoming filtering.
Outgoing spam filtering and blacklisting of IPs.
SSL
No NSA Spying
Advanced web hosting security
2-factor authentication
Payment Methods
Visit OrangeWebsite

#8 Impreza
Want to go with the best tor-supported VPS? Well, your search is over. You can go with Impreza's anonymous hosting. You can choose the Ukraine server for privacy and DMCA ignorance. Here, the servers are also compatible with Tor. There is also Tor hosting available if you want to have a website in the Tor project. Coming back to the point, it's a reliable and secure hosting that ignores DMCA.
It won't even ask for your name or address. If you have a Tor project, they will also fund your project with $5 recurring to keep it active. So, that's a huge thing if you want to host something like that. Let's see the location of the servers and other features.
Offshore locations
Ukraine
Iceland
Finland
Romania
Security Features
DDoS protection
No personal information or documents needed
Only one email to start
Reliable network with great uptime
Payment Gateway
Bitcoin with 20 other cryptocurrencies (including Dogecoin)
PayPal
Boleto
Paygo
Mercado Pago
Certain bank transfers
Visit Impreza

Which hosting type should I pick for offshore hosting?
Till now, we saw some of the best offshore hosting providers as well as we saw some cheapest DMCA ignored hosting services. Now, the point is whether you should go with the shared hosting or go with the VPS.
Shared hosting is great for you if you are looking for decent budget hosting. For smaller websites, shared hosting is preferred. If you are a blogger or journalist maintaining your blog, you can go with one of the shared hosting plans.
However, if you are expecting a lot of traffic on the website, you can upgrade and go with the VPS. VPS will give you more capabilities as well as it will increase the overall performance. Hence, you can surely go with the VPS.
So, the answer is pretty clear. If you have a small website and a limited budget, shared hosting is for you. However, if you have a huge website, you will have to choose a VPS plan.
Now, let's see some of the best VPS DMCA ignore hosting providers.
Requirements to choose the best DMCA ignored server
Looking for the "Best offshore hosting with no DMCA" is not just about finding the web hosting that ignores the DMCA, there are many more factors that matter here.
You need to ensure that everything else is good. We have created a list of important factors that you need to check. This will ensure that your web hosting is worth it.
Offshore Location (DMCA ignored countries)
First, you need to find the location of the company. Certain countries ignore DMCA. Your data must be hosted in one of these countries. If your data is hosted in these countries, you can rest assured that you are safe from the legal laws of that country.
The best countries that are known for ignoring DMCA include Netherlands, Luxembourg, Bulgaria, Russia, Hong Kong, Singapore, Ukraine, Iceland, Finland, Malaysia, etc.
Does this mean that if your website is hosted in these countries means you are safe? Of course not. The web host also matters along with the hosting location. So, you also need to ensure that the web host doesn't take DMCA seriously.
DMCA Policy
Any web hosting service that claims to ignore DMCA will have a certain policy. Many people ignore them.
Now, let's take an example. Some web hosts might claim that they ignore DMCA but they don't allow hosting pirated content. For them, DMCA ignorance is only for the things that are against freedom of speech.
So, this can be an issue for you if you are hosting a movie streaming website. Of course, this is just an example. The policy might be different than what we mentioned here.
You need to check the policy to ensure that you are allowed to host the specific type of content that you intend to use for your site.
ID Verification and Payment Methods
Sometimes, you might want to hide your identity. In that case, you can find the web host that doesn't ask for your identity.
However, when you make the payment, your identity will be revealed as the bank will give out your name. In that case, you can look for a company that doesn't even ask for a credit card. If there is another payment method such as Bitcoin, then your identity will be hidden.
Security and Performance
Security is yet another important thing. Make sure the web host has proper security measures taken such as DDoS protection, server reliability, DNS, etc. Things like DDoS protection and DNS are given by most providers. However, it's always better to check them before we move forward.
You also don't want your website to be down due to some stupid power cut, right? For that, you need to see the uptime. Also, while you are checking these things, you can look for the speed. Additionally, you don't want your website to be slow, right? So, performance is one of the key things to check.
Final Words
To conclude, these are the major and the best offshore hosting services that ignore DMCA. You can go with any of these. Make sure you check their policy. They might have some restrictions.
So, you can read that and then choose the one that suits your need. You don't need to worry about the privacy, security, DMCA, and performance of these providers. Hence, you can see the rest of the things and then select the best one as per your need.
Here are some related articles that can interest you in the same context: