If you are looking for reliable anonymous WordPress hosting, you're not alone. Trying to maintain privacy and anonymity doesn't necessarily mean you are involved in some unauthorized activity on the dark web. There might be several reasons why you'd want to conceal your identity.
You might be a journalist, a blogger, or a developer working on sensitive content or anyone who does not wish to reveal their identity on the net and get any unnecessary fame. Going anonymous under such conditions can keep your website and personal information protected from prying eyes.
There are hosting providers out there who can help you keep your identity secret. Anonymous hosting providers do not require your data and also provide payment options through cryptocurrencies, such as Bitcoin. This enables maintaining the privacy of your data while ensuring anonymity and security.
If you are not sure which anonymous website hosting you should consider, then here are the top 8 names for you – all verified to provide high-end privacy and anonymity as you want.
Let's dive in right away.
8 Best Anonymous WordPress Hosting Providers (2022)
Choosing the right hosting provider is crucial to ensure the complete anonymity of your website. A good private WordPress hosting provider maintains 100% privacy of your personal information along with high-end security.
Discussed here are the top 8 WordPress hosting solutions for anonymity worth considering.
1. Bitcoin Web Hosting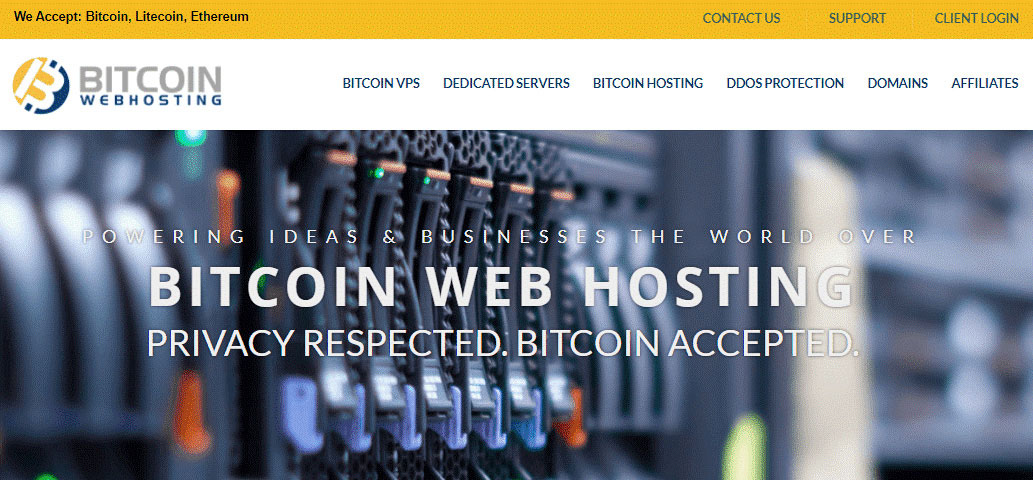 Bitcoin Web Hosting is one of our top picks in anonymous WordPress hosting solutions that provide a reliable and secure environment for hosting your website. The platform is WordPress hosting optimized, ensuring high levels of privacy protection. They provide DMCA-ignored, fully-managed VPS plans to help host your website with utmost anonymity.
They accept payment through Bitcoin, Ethereum, Litecoin, and other cryptocurrencies – for maintaining your discreteness.
Key Features
Suitable for WordPress and starter websites
High performance, powerful and scalable servers
Fully managed WordPress hosting with expert support
Unmetered bandwidth and unlimited storage
Free SSL certificate
99% server uptime
No-risk 45-day money-back guarantee
Payments accepted through cryptocurrencies
Register a domain and get started right away! It's that simple.
Visit BitcoinWebhosting

2. Shinjiru

Shinjiru excels in privacy solutions. It offers 100% offshore WordPress hosting, ensuring your information and website identity remains protected and confidential. The hosting provider even takes obscurity a notch higher by offering anonymous domain registration.
Key Features
WordPress hosting with LiteSpeed Technology for 8x faster performance
Offshore servers to help maintain privacy and anonymity
Does not require providing personal information while signing up
Accepts payment through Bitcoin and Ethereum with anonymous identity
High-end web protection: SSL certificate, Sitelock, DDoS Protection, and Anti-Hacking Protection
High server uptime
Shinjiru is a great proponent of freedom of speech & website content. As such, they provide DMCA-ignored hosting solutions and do not accept website takedown requests. It is one of the top choices in private WordPress hosting providers.
Visit Shinjiru

3. Hostinger
Hostinger is one of the top hosting providers in the market today, but it also excels in anonymous WordPress hosting. It does not require you to provide a large amount of personal data while signing up, and thus, your confidentiality is well-maintained. Hostinger also accepts anonymous payment methods, including cryptocurrencies like Bitcoin.
Key Features
LiteSpeed Technology, CloudFlare, and SSL certificate – all optimized for top-level security of your WordPress site
Enjoy unlimited bandwidth and a 99.9% uptime guarantee
Up to 200GB SSD storage
Multiple data centers with 24/7 technical support
Offshore WordPress hosting (transfer to particular data centers)
Accepts cryptocurrency payments like Bitcoin, Litecoin, Ethereum, Ripple, etc. for anonymous hosting
If you are seeking the best value for WordPress hosting along with privacy and discreteness, then Hostinger is one of the most reliable choices. However, they are DMCA-friendly and can suspend your website upon valid takedown requests.
Visit Hostinger

4. Namecheap
Namecheap is one of the top providers of EasyWP managed WordPress hosting solutions, with great features and competitive prices. And for anonymous hosting, it accepts both Bitcoin and Bitcoin Cash payment methods.
Namecheap does not require identity verification during sign-up and also provides WHOIS domain privacy protection. This means, all your data and contact information is secured by default.
Key Features
All WordPress hosting plans ensure faster installation in less than 90 seconds, 3x faster website loading speed, easy backups & restores
99% uptime guarantee with cloud server
Easy-to-use and intuitive dashboard to manage WordPress websites
Support for any domain name
Namecheap is one of the most trusted WordPress hosting providers that ensure high levels of privacy. But it is important to note that they are DMCA-friendly and approve takedown requests in case-specific terms & conditions that are met.
Visit NameCheap

5. Vultr

Vultr is a powerful WordPress hosting provider that allows you to launch your WordPress application or website in just a few simple clicks. They have 17 worldwide server locations, allowing you to build your website locally and deploy it globally. This enables you to maintain anonymity by hosting your website or application in an offshore server location.
To further protect your privacy and discreteness, Vultr also accepts cryptocurrency payments through Bitcoin, Bitcoin Cash, Litecoin, Ethereum, etc. This ensures your personal information remains secure and confidential.
Key Features
Deploy your WordPress applications in seconds, choosing from robust products like Cloud Compute, Block Storage, Bare Metal, and Dedicated Cloud
Easy-to-control API and control panel
100% SLA guaranteed for enterprise-level performance and stability
Vultr is a robust hosting solution provider that allows you to deploy WordPress anonymously at competitive prices. But they do not permit infringement of intellectual property rights and copyright-infringing activities, and are DMCA-friendly. They will remove user content if it infringes DMCA regulations.
Visit Vultr

6. Hostens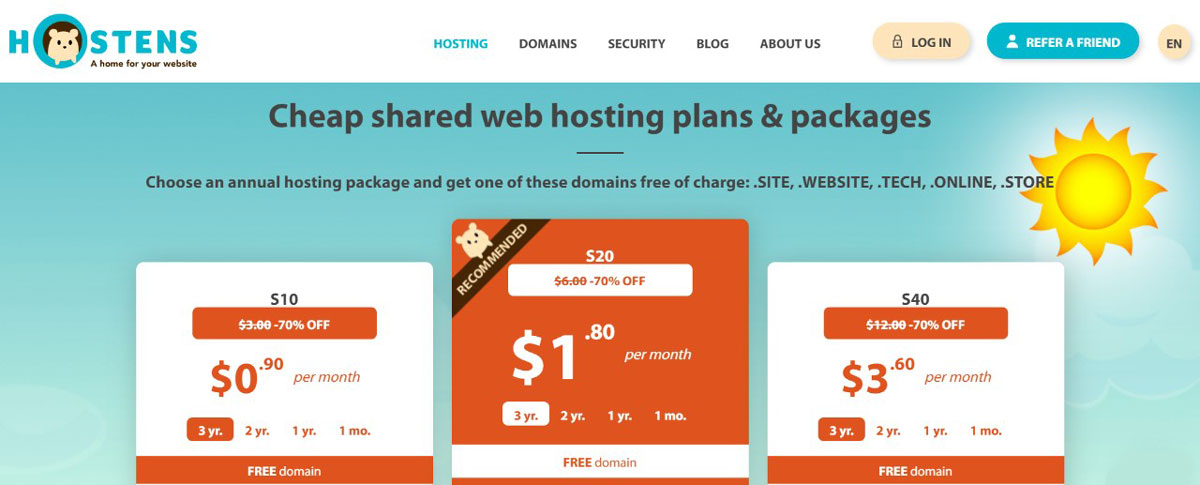 Hostens is one of the cheapest shared hosting providers, with packages starting from $0.90 per month when you sign up for their 3-year term. Additionally, the basic plan allows you to host up to 10 websites and supports 1 TB bandwidth, which is one-of-a-kind for a shared hosting plan. However, Hostens does not offer anonymous hosting comprehensively, but their payment methods include cryptocurrencies such as Bitcoin, Bitcoin Cash, XRP, and Ethereum.
Key Features
High performance 40 x 960 GB SSD RAID storage with premium shared hosting plan
4 GBPS dedicated uplink to ensure uninterrupted website performance
Host up to 40 websites and get up to 4 TB of bandwidth
Free Let's Encrypt SSL certificate with daily/weekly backups and 24×7 server monitoring
95% uptime guarantee
WordPress-optimized hosting environment
Multiple server locations in the USA, EU, and Asia
Their data center infrastructure in Lithuania, Vilnius, enables you to choose offshore WordPress hosting. This helps in maintaining some sort of anonymity for your website as the location of hosting the website is different from that of creating and using the website.
Hostens is DMCA-friendly and accepts takedown requests in case of copyright or intellectual property right infringements.
Visit Hostens

7. Namesilo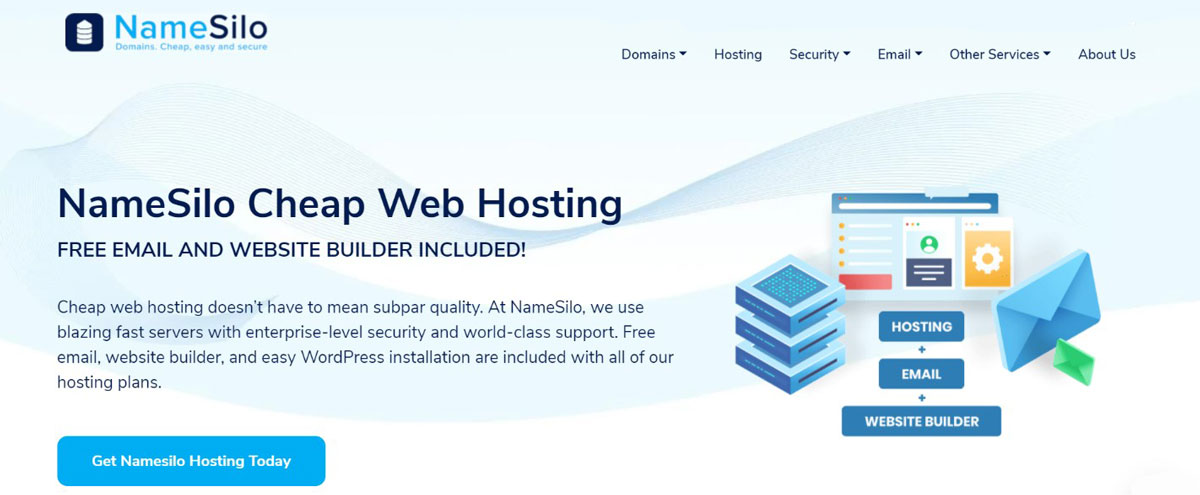 NameSilo is another budget-friendly hosting provider, with easy WordPress installation and a Website Builder to get started right away. It supports hosting up to 10 websites, 60 GB storage, and free email.
And if you are looking for anonymous hosting, NameSilo is a good choice because it helps maintain the discretion and autonomy of your financial transactions. It accepts Bitcoin payments, which means your money transfer is encrypted and your personal information remains secure.
Key Features
99% guaranteed uptime
Free email included with all accounts
cPanel control panel
Built-in website builder with WordPress installation
Ultra-fast servers with world-class support and enterprise-level security
Additionally, they are DMCA-ignored and do not consider abuse complaints unless they are directed through a court.
Another advantage of choosing NameSilo hosting is that they specialize in domains, offering an array of solutions like domain name search, domain transfer, WHOIS lookup, and more. It has over 3 million active domains, supported by free domain privacy and SSL certificates.
Visit NameSilo

8. Namehero

NameHero is a reliable web hosting provider that is easy to use and ensures ultra-fast website speed and scalability. It ensures easy to control, 20x faster loading times, zero downtime, machine learning security, and 1-click WordPress management with optimization capabilities on LiteSpeed.
Most importantly, they are now accepting payment through cryptocurrencies, including Bitcoin, Bitcoin Cash, Ethereum, and Litecoin. This enables you to get started right away without providing a lot of personal information and your financial transactions are also kept confidential.
Key Features
1-click WordPress management, with AI drive Security Shield and LiteSpeed
Cloud-powered web hosting
Unlimited SSD Raid storage
Unlimited bandwidth with unlimited email accounts, parked domains, and subdomains
Free LiteSpeed (Superhero optimized) and Auto SSL
Nightly and weekly backups
NameHero is a reliable choice for WordPress hosting for privacy, powered by cloud servers. It offers a multitude of features and ensures high-end security while maintaining your website privacy and confidentiality.
But in case of copyright infringements, they follow DMCA-friendly regulations and accept valid takedown requests.
Visit NameHero

Anonymous Domain Name Registration
If you are looking for anonymous domain name registration, many popular domain name registrars provide the same – including those mentioned above. However, it is always a good practice to keep your hosting account and domain names separate. While it is natural to keep everything in one place, this might not be a good option when it comes to domain name registration and website hosting.
Here are crucial quick reasons why it is strongly recommended to keep your domains and hosting separate:
If for any reason you choose to switch your hosting provider you will also need to transfer your domain registered with the old host. And this can be confusing, time-consuming, and stressful. But if you keep the domain elsewhere, there are fewer hassles. You only need to update the DNS setting to have it pointed to your new hosting account.
When you register your domain separately, it helps ensure improved security even if your website gets hacked. Your domain remains yours.
Register all your domains on one interface. This is especially true if you run multiple websites. Doing this will help you seamlessly transfer all your domains to new servers if required. All you have to do is visit your domain registrar and mass update the DNS settings.
Many hosting providers offer web hosting and domains are grouped confusingly. In case you decide to cancel your hosting, you might find that your domain name has become more expensive or there are possibilities of the domain name getting canceled along with the web hosting account even though it was offered along with the hosting plan.
If you have hosting and domain with the same provider, what happens if your hosting account gets hacked? Or if something goes wrong with your host or website? What if your hosting files and domain are compromised or injected with malware? Or if the hosting company has locked your account? In this situation, you would lose access to your domain as well. When your hosting and domain are kept separate it is easier for you to deal with these problems.
If you wish to register several domains, it is easier for you to manage all of them through a single interface that is only for your domains.
How do you register your domain anonymously?
Namecheap and NameSilo are two good options for domain registration, allowing you to anonymously purchase and register your domain. They accept cryptocurrency payments through Bitcoin, Ethereum, along with other cryptocurrencies so you can make payments discretely.
When you register a new domain, the governing body – ICANN, would publish your name and contact information in the WHOIS directory. This information is open to the public and anyone can access this data at any time.
Registering your domain with Namecheap or NameSilo comes with WHOIS privacy protection. This means your contact details in the WHOIS directory will be replaced and masked with anonymous information. Thereby, anyone who looks up your information in the WHOIS directory will get this masked information and not your data. This helps maintain privacy, security, and confidentiality.
Once you register domains with Namecheap or NameSilo, point these to any of the confidential WordPress hosting providers discussed above. This way you will have both the web hosting and domain name anonymous while keeping them both separate.
Conclusion
Whether you want to keep your fan following under wraps, broadcast news under a pen name, or if you are looking for improved privacy of your website – the anonymous WordPress hosts discussed here have just the right package for you. Protect your anonymity and get started with your website with one of these hosts.
However, a good anonymous WordPress hosting provider protects the user's identity and confidentiality. And at the same time, also ensures security, reliability, optimum website performance, and cost-effectiveness. It is important to compare these hosting solutions based on various factors and not just the level of anonymity they provide to get a comprehensive anonymous hosting solution.
After all, you would want your website to function optimally and deliver an improved user experience in addition to security and discreteness. Based on the above review, Shinjiru is a good hosting solution that offers offshore WordPress hosting with reliable hosting features and affordable pricing.
For robust hosting solutions, pick popular platforms like Hostinger and choose their crypto payment method during financial transactions. This will help maintain the confidentiality of your personal information. Registering your domain with Namecheap and NameSilo will help maintain the anonymity of your domain.
If you want to add up to the information given in this review or if you want to share your experience with an anonymous hosting provider, you can mention your views in the comments.