If you are a fan of unlimited hosting plans, I'd like to share with you that every shared hosting plan has its limit. Even if a hosting provider claims to provide you with an unlimited plan, it is not truly unlimited.
Every server has its limitations and cannot provide you with resources beyond its maximum capacity. When you use excessive resources on a shared hosting plan, you will be disrupting your fellow website owners on the same server. That is why hosting providers set a limit even for their unlimited plans.
Generally, the bandwidth offered under an unlimited plan is sufficient for a small blog or website. But if your website grows exponentially and starts receiving a lot of traffic, it is better to transfer it to a VPS or a dedicated hosting plan.
This article focuses on the Bluehost bandwidth limit and the consequences of exhausting it. We'll also discuss some of the best alternatives to Bluehost to serve your website's bandwidth needs better.
Let us first discuss the bandwidth limitation set by Bluehost.
Bluehost bandwidth limit
Bluehost does not define any limits for its unlimited hosting plans. So you are not billed based on the amount of bandwidth or disk space used for your website needs. But the host expects you to use these resources in the normal operation of your small business website or personal blog.
The Bluehost unlimited plan comes with a lot of terms and conditions, so you must consider checking out their usage policy before signing up with the host.
What happens when you exceed the Bluehost traffic limit?
Although it is rare for a website to exceed the allowed usage of resources, Bluehost notifies you via email if it does. You will be allowed some time, about 48 hours, to bring your resource usage down or shift to another hosting type that better suits your website needs.
Additionally, the host will also limit the resource usage for your hosting plan, thereby causing considerably slow loading times for your website.
The bandwidth and disk space provided by Bluehost will generally be sufficient for your hosting needs when you are managing a personal blog or small business website.
But if your website is an exception and exceeds the usage policy set by the host, Bluehost might terminate your account with or without notice.
Does Bluehost limit traffic?
Bluehost certainly limits traffic but does not mention it in its hosting plans. You can, however, find a mention of it in the Bluehost User Agreement.
None of the Bluehost shared or VPS hosting plans mention any kind of traffic limit. The shared hosting plans even offer unlimited resources without explicitly mentioning any limit set for your website traffic.
But every hosting plan has its limitations depending on the maximum capacity of the host server.
So it is better to ask the live chat support provided by Bluehost upfront if you are concerned about the host limiting traffic to your website.
Bluehost traffic test
It is worthwhile to mention here that Bluehost keeps a check on the number of page views and unique visitors received by your website. Here is a screenshot from the cPanel of a Bluehost account using a VPS hosting plan that displays the traffic handled to date.

So Bluehost might limit your traffic if you exceed the resource usage of the hosting plan you have purchased. You must, therefore, consider upgrading your plan whenever your website grows in traffic.
Traffic recommendation
A shared hosting plan from Bluehost will be sufficient for a beginner as it can handle a decent amount of traffic. You can easily receive about 25,000 unique visitors monthly or even more depending on your website's optimization level.
If your website grows exponentially and starts receiving lots of visitors, you must consider upgrading to a powerful VPS or Cloud hosting plan. Else, your website might suffer in terms of speed and your Bluehost account will also be at the risk of getting banned.
How much traffic can Bluehost handle?
Bluehost can handle 12k to 16k visitors per day and 12k to 16k hits per hour. It all, however, depends on how the server resources get distributed.
A visit is when an internet user clicks a web page of your website, not considering the number of files downloaded. On the other hand, a hit is when a request is made to the server for downloading a particular file.
The Bluehost Basic shared hosting plan offers the following traffic limits:
| | |
| --- | --- |
| Hourly visits | 600 |
| Hourly hits | 12,400 to 16,000 |
| Daily visits | 14,500 |
| Daily hits | 300,000 |
| Monthly visits | 446,000 |
| Monthly hits | 8,900,000 |
Please note that the above-listed figures are approximate values only. The true traffic limit depends on many factors, including your website optimization level and resource distribution by the Bluehost server among different website owners.
Is Bluehost truly unlimited?
Theoretically, Bluehost offers everything unlimited but practically, you will find limits on each of its hosting plans. A quick research about their definition of unlimited reveals that the resources available for your website are dependent on your server partners since they are also using the resources of the same server.
The host also states that you will receive a set amount of bandwidth even when the plan mentions it as unmetered. It explains the true meaning of unmetered in the following manner:

The Bluehost shared hosting plans are sufficient only for the hosting needs of small blogs and websites. If you have a medium to large website or blog, I'd recommend not using shared hosting for it.
You spend a lot of your time building your website and put in daily hard work to grow it. So it is wiser to choose the correct type of hosting plan for your website.
Bluehost is unlimited for you until you become a part of the 1% of website owners who are using maximum server resources. You will be violating the Bluehost usage policy if the websites of your server partners suffer because of your website using excessive resources. In such a case, the host will recommend you to move your website to a higher tier of hosting service.
It is also important to mention here that the Bluehost servers work slower than many of its competitors who offer better hosting services and more server resources.
Should you use Bluehost?
The Bluehost shared hosting plans are perfect for you when you are expecting a few thousand daily visits to your website. These plans can easily handle 100k to 200k visits each month.
But if you expect to receive more daily visits than I mentioned above, it is better to choose the VPS plan offered by Bluehost or choose a competitor offering higher bandwidth limits.
I've tested shared hosting for a WordPress website and the WordPress hosting plans offered by Bluehost. Compared to its competitors in the same price range, the results offered by the Bluehost plans are not good enough.
That is why I recommend choosing a better host with more flexible hosting solutions when your website requires ample bandwidth.
Best Bluehost Alternative
The hosting plans offered by Bluehost do not provide faster loading times for your website. So you might notice downtimes or slow website speed with the Bluehost hosting solutions. It is, therefore, better to look for some alternatives that might be more suitable for your hosting needs.
Option 1: Cloudflare
Before talking about shifting to a new host altogether, I'm presenting you with a solution that might solve your issue while still using the Bluehost services. So if you do not want to transfer your website away from Bluehost, consider using Cloudflare to allow your customers access your website even during a failure.
This free service also helps in better handling unexpected traffic spikes via load balancing across different servers. It, therefore, reduces the bandwidth consumed by your website from the Bluehost plan.
Option 2: Cloudways
Cloudways is a perfect alternative to Bluehost when you are looking for more bandwidth. It offers superior functionality for your website without requiring you to learn server management.
The host offers dedicated server resources with its specialized WordPress hosting plans. You will receive more bandwidth and friendly support with these hosting services.
You are allowed to choose a server with Cloudways that fits well with your traffic needs and monthly budget. The cloud infrastructure used by the host is capable of handling all levels of traffic. So if one of your blog posts goes viral or you are running a New Year sale on your online store, Cloudways will handle the traffic without any downtime or website slowdown.
See the results delivered by Cloudways in this Load Impact test of a Cloudways Vultr server costing $44 per month: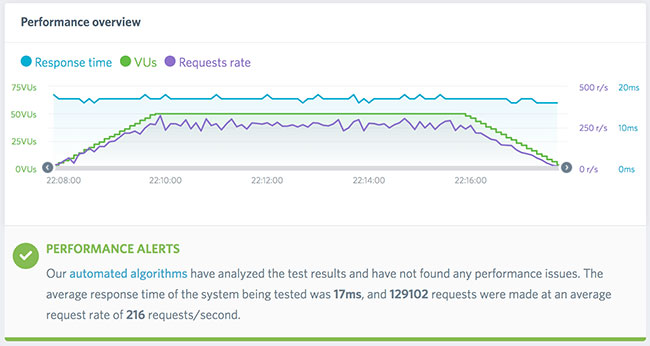 The above test shows that Cloudways can handle high traffic volumes of over 100k in under 10 minutes. At the same time, it delivers an excellent average response time of 17ms.
Unlike Bluehost, your website loading time will not suffer or you won't experience any site crash if you utilize more bandwidth than your plan's maximum limit. Instead, Cloudways will grant you additional bandwidth for the smooth running of your website.
The host charges about $0.02 to $0.05 for every additional 1 GB of bandwidth it provides, depending on the location of the data center. So Cloudways is completely flexible and the best choice for website owners concerned about the bandwidth limits offered by hosting providers.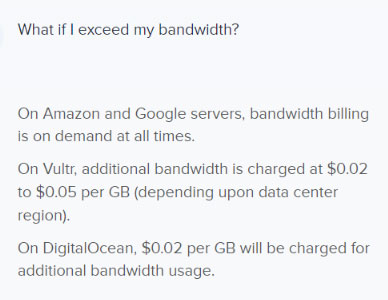 Takeaway
For a beginner, the shared hosting plans offered by Bluehost are enough to handle their website's bandwidth needs. These plans are capable of handling a good amount of traffic. You can expect them to manage around 25,000 unique monthly visitors and even more depending on your website optimization level.
The bandwidth you receive depends on the Bluehost hosting plan you are using, and its exhaustion depends on the kind of website you are running. So if your website is receiving a lot of visitors and you experience load time issues, you must upgrade either to a powerful VPS plan or get a cloud hosting solution.
Consider getting a VPS hosting plan that guarantees you a certain amount of resources so that you do not get banned for excessive usage on a shared hosting plan without any guaranteed resource allocation.
FAQ (Frequently Asked Questions)
Which Bluehost packages can handle 50,000 visitors per day?
None of the shared hosting plans from Bluehost can handle 50,000 visitors a day. You might end up getting your website suspended for over usage of server resources. You must choose a VPS hosting plan from Bluehost or go with Digital Ocean since it has cloud infrastructure to handle high amounts of traffic.
How to check website traffic Bluehost?
You can check traffic to your Bluehost website from your control panel by following these steps:
Go to the "Statistics" section in your cPanel.
Choose either "AWStats" or "Webalizer".
Select your website of whose traffic report you want to check.
Click the "View" button.

The host then displays detailed information about your website traffic, including the total number of visits, unique visitors, the total number of hits, and the bandwidth consumed by your website.
Does Bluehost have a CDN?
Yes, Bluehost offers free Cloudflare integration to all its customers to help take advantage of a reliable Content Delivery Network (CDN). You will find this helpful info about Cloudflare in the Bluehost Knowledge Base: