Looking to migrate to a VPS server for your German audience? We have answers to your questions and more in our latest, cheap VPS hosting Germany edition.
The list contains high-performing VPS and cloud providers with data centers in Germany. Let's start with the best providers to host your web apps.
Hosting plans
Server Locations
Server Locations
Germany
FrankFurt
FrankFurt
Starting Price
Starting Price
$4.49/month
$2.50/month
$4.00/month
7 Cheap VPS hosting in Germany
The popularity of VPS in central Europe is increasing tremendously. Particularly in Germany, people seek cheap yet easy-to-manage virtual solutions to meet their server requirements.
So, whether you are looking for managed or self-managed VPS providers, this list is for you. Usually, managed services will cost you a lot more, so you can go with unmanaged VPS to save money.
We have also mentioned the name and specifications of the cheapest plan for each host. Let's start the list.
1. Kamatera (Best Overall)
Kamatera is a cloud server with 18 server locations. Their German data center is located in Frankfurt and uses VMware virtualization.
You can add managed service if you don't want to manage the technical stuff such as system configuration, OS management, etc.
Even if you don't add their managed service addon, the panel is relatively easy to use. You can also add a cPanel or Plesk panel for an extra cost.
They have 100s of OS images, and you can also upload custom ISO. You can scale up to a huge extent (up to 104 vCore), even by adding a particular resource such as disk space, RAM, etc. They also support hourly billing.
You will get a 99.95% uptime guarantee. The server is set up within a minute, and Kamatera has excellent 24/7 support.
Starting price: $4/mo or $0.005/hr, and the managed cloud costs $54/mo or $0.074/hr. They also offer a 30-day free trial.
Specs of the cheapest plan (type A CPU with base specs):
CPU: 1 vCPU (2667 MHz).
RAM: 1024 MB (1 GB).
Storage: 20 GB SSD.
Bandwidth: 5000 GB at 10 Gbps.
Visit Kamatera

2. AlphaVPS (Best Price)
AlphaVPS offers cheap VPS hosting with Germany-based servers accessible from the city of Nuremberg. They use OpenVZ 7 for virtualization, and the kernel is shared for their cheapest VPS package.
You can use one of their other VPS packages if your workload requires running your kernel. You can still choose the preferred OS as you will get the root access to the server.
Coming to the advantages, AlphaVPS offers 24/7 support as well. You will get a premium network with multiple tier-1 providers.
You can expect excellent performance with their dual Intel Xeon E5 processors and RAID 10 SSD arrays.
They don't have fully managed services. However, you can request paid admin time (15 to 30 mins) for complex installations or cPanel installation and configuration service.
This package's scaling up is relatively limited (only 4 vCore VPS are available). You can still go with their other VPS packages, each targeting dedicated kernels, higher performance, and greater storage.
Starting price: €3.50/mo ($3.73/mo), or €35 ($37.30) if paid annually
Specs of the cheapest plan (base plan from Cheap VPS):
CPU: 4 shared vCores
RAM: 2 GB
Storage: 15 GB SSD
Bandwidth: 1 TB at 1 Gbps
Visit AlphaVPS

3. Contabo (Best Specs)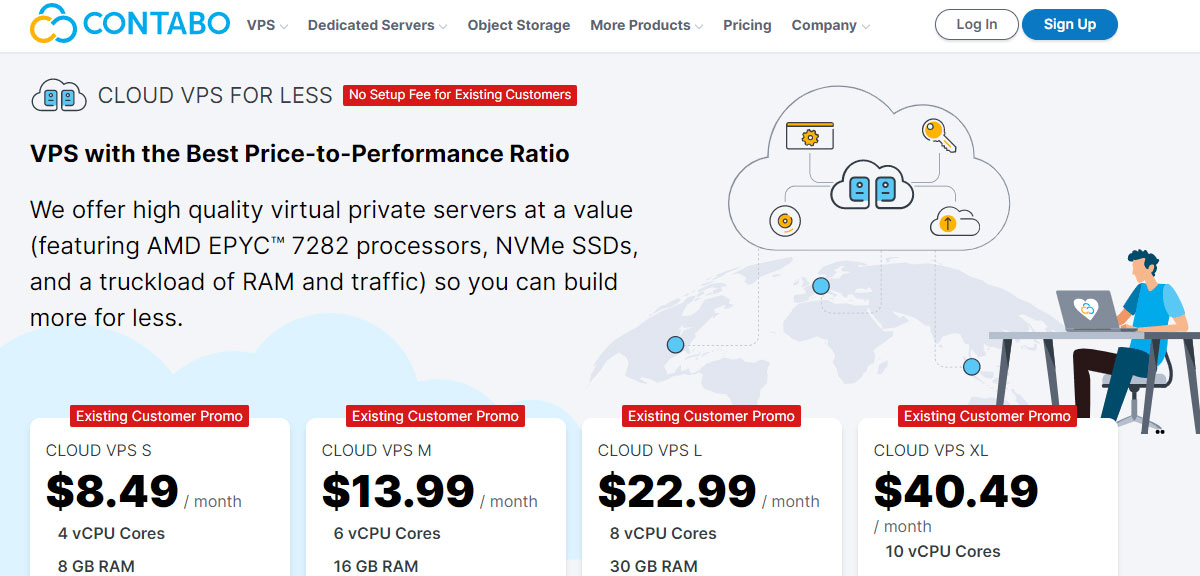 Looking for cheap VPS hosting Germany with great technical specs?
Contabo is a cheap German server offering the best specs in the base plan itself. They have data centers located in Frankfurt, Germany.
They use KVM for virtualization, and their servers are backed by German-quality hardware for better performance. On average, performance is quite good as they use AMD EPYC™ 7282 processors.
It's worth noting that Contabo stuffs a lot of users in a single server. Therefore, the performance issues vary depending on the server's total load.
They have decent security with their 24/7 surveillance, but their support doesn't reply to the majority of queries. Contabo also has an add-on for paid server management services, although they are heavily priced.
Therefore, it's recommended to go with the unmanaged server.
Starting price: $8.49/mo (with an $8.49 setup fee if you go with less than a 12-month billing term).
Specs of the cheapest plan (CLOUD VPS S):
CPU: 4 vCore.
RAM: 8 GB.
Storage: 50 GB NVMe or 200 GB SSD
Bandwidth: 32 TB out and unlimited in, at 200 Mbps.
Visit Contabo

4. AccuWeb Hosting
AccuWeb Hosting is a cheap, managed VPS based in Frankfurt, Germany. You will get two options to choose from. One of them comes with high-speed storage (SSD), which is fully managed, and the other is a classic storage VPS, which is self-managed.
High-speed server uses Xen, while standard storage uses KVM virtualization. They have outstanding 24/7 tech support with an average of 11 minutes of first response time via ticket.
You can also request support via live chat.
If you go with high-speed storage, the rate will increase when you select Germany as a data center. Also, you will get a massive discount if you increase the billing term.
It's recommended to do so as if you don't like the service, you can ask for a refund within 7 days. You won't need a refund as the performance is incredible, with 99.9% uptime.
Starting price: $12.99/mo, which decreases to $10.99/mo for the annual plan.
Specs of the cheapest plan (High-Speed Storage Managed VPS Lite++):
CPU: 1 vCore.
RAM: 1 GB.
Storage: 40 GB.
Bandwidth: 1 TB at 1 Gbps.
Visit AccuWeb Hosting

5. Ultahost
Ultahost is a cheap managed VPS with German servers located in Frankfurt. The KVM server comes with unlimited bandwidth. You will get many free services like migration, SSLs, automated backups, BitNinja security, and more.
The performance is also unmatchable at a whopping uptime of 99.99%. They have an auto-healing server with dedicated firewalls. You will get an optimized stack to run any web app; the support is incredible and available 24/7.
However, on the negative side, the scaling is quite limited. You can only get up to 4 cores, and the base plan doesn't host more than 7 websites.
You will get limited port speed in the base plan. However, it increases as you upgrade.
Starting price: $5.50/mo (renews at $7.33/mo). The monthly fee also decreases with longer billing terms.
Specs of the cheapest plan (VPS Basic):
CPU: 1 CPU core.
RAM: 1 GB DDR4.
Storage: 30 GB NVMe SSD.
Bandwidth: Unlimited traffic at 200-350 Mbps.
Visit Ultahost

6. Vultr (Free-Trial)
Vultr is a KVM-based cloud service provider offering a 30-day free trial to test the servers. They have 30 data centers, one of which is in Frankfurt, Germany. They have a 100% uptime SLA guarantee.
You will get hosting credits if the server goes down. Their marketplace helps you install your favorite app in just a few clicks. Moreover, you can also install any OS of your choice, including custom ISO.
Due to its low-cost base plan, it's a good choice for beginners. Another significant benefit, they also offer hourly billing. Their control panel is one of the easiest to use; you can even access it on your mobile phone.
Their API can help you automate the cloud if you are an intermediate developer.
Starting price: $2.50/mo or $0.004/hr. Use code "TRY50" for a free trial.
Specs of the cheapest plan (base plan in Regular Performance):
CPU: 1 vCore.
RAM: 0.5 GB.
Storage: 10 GB SSD.
Bandwidth: 500 GB at an average of 1 Gbps.
Visit Vultr

7. Hetzner (for Europeans)
Hetzner is a Germany-based KVM server perfect for Europeans. You will get two data centers in Nuremberg and Falkenstein. It allows you to add a load balancer to the cloud.
There are many add-ons you can go with, such as backups, snapshots, block storage, etc. Their security is excellent, and you will also get free DDoS protection with every plan.
The standard virtual cloud allows you to scale up to 16 cores. To get stable performance, you can also get a dedicated vCPU. The plans have a mix of Intel and AMD CPUs.
Like Vulltr, they have an hourly billing, but you get better bandwidth at a much more affordable rate here.
When you buy the cloud, you might require to submit ID proof which takes some time to get approval.
Starting price: €3.92/mo ($4.17/mo) and €0.0062/hr ($0.0066/hr).
Specs of the cheapest plan (Standard CX11 IPv6 only):
CPU: 1 vCPU.
RAM: 2 GB.
Storage: 20 GB.
Bandwidth: 20 TB at 1 Gbps.
Visit Hetzner

#Bonus – OVHCloud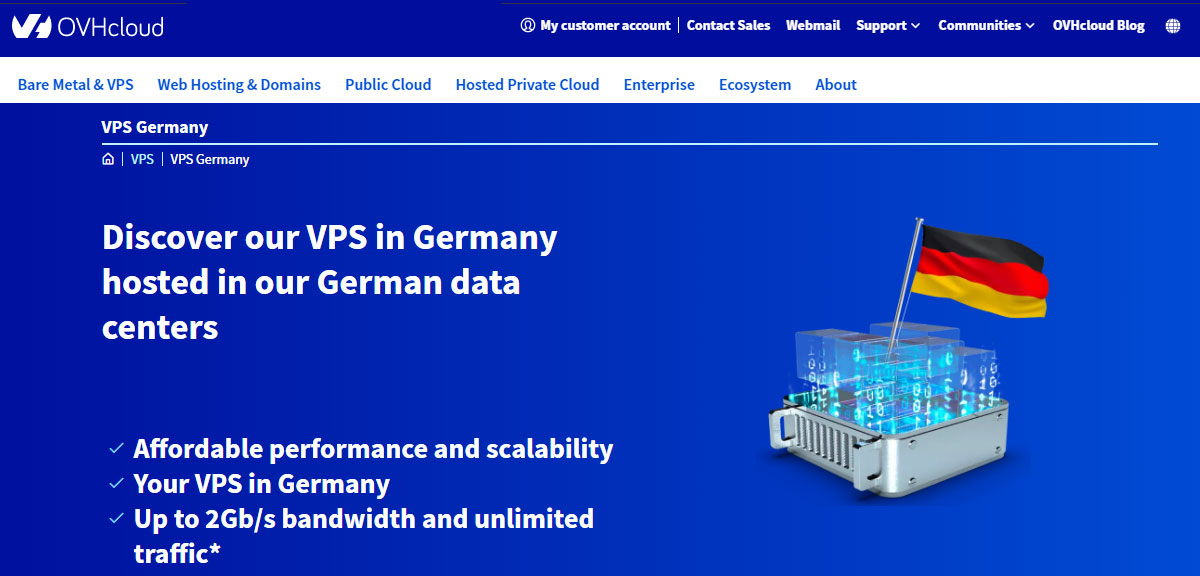 OVHCloud is a reputed Frankfurt cloud provider offering unmetered bandwidth. They use KVM for virtualization. You will get isolated resources with 24/7 monitoring.
Moreover, the provider allows you to install any OS, including Windows.
You can quickly scale your server as needed. The last plan has 8 virtual cores, allowing you to add additional disks for storage.
One of the biggest problems with OVHCloud is its slow and almost non-existent support. Sometimes, it takes more than 24 hours to get an answer.
That's one of the reasons why we have ranked it at the bottom of our list of affordable VPS hosting Germany-based providers.
Starting price: $7/mo. Longer billing terms are cheaper ($6.44/mo for 12 months and $5.95/mo for 24 months).
NOTE: They also often offer starter packs at much lower prices, so be on the lookout.
Specs of the cheapest plan (Value plan):
CPU: 1 vCore.
RAM: 2 GB.
Storage: 40 GB NVMe SSD.
Bandwidth: Unmetered bandwidth at 250 Mbps.
Visit OVHCloud

How to Choose the Best German VPS Hosting
Regarding German VPS services, three points will help you choose the best yet cheapest hosting option.
Pick a Provider Near You
Going with VPS with a data center in Germany or a neighboring country is highly recommended. Popular competitors of German VPS services — especially when they don't have data centers in this country — will typically have data centers in UK or Netherlands.
You will still get decent latency as they are on the same continent.
Choose the Right Specs
You need to choose the VPS with decent specs at minimum cost to start your journey on the right foot. First, check the kind of performance you're getting.
You should be able to scale up your server and add more resources afterward.
TIP: Some hosts offer discounts if you go with an annual billing term or longer. You can choose that option to save some extra money. But it's best to do this after confirming the host is a good fit for your needs.
Decide on Website Management
You can either go with managed or unmanaged (self-managed) options. There is a huge price difference between these two. Usually, if you have technical knowledge, going for self-managed is the better choice.
You can always add a control panel if needed.
But if you are technically challenged, a managed service makes dealing with a VPS significantly easier. Here are a few examples of the services you can get in a managed VPS:
Conclusion
Choosing the cheapest VPS hosting with Germany-based providers depends entirely on your requirements. You can go with any of the above-listed hosts and have satisfactory service.
We have selected a few winners for you, keeping the criteria mentioned above in mind. With these hosts, you can add managed services, they have multiple locations, and you can even configure the specs.
Best overall: Kamatera (Winner)
Best priced: Vultr (1st Runner-up)
Best managed: Ultahost (2nd Runner-up)
Looking for Windows VPS? Have a look at Cheap Windows VPS in Germany.
FAQ (Frequently Asked Questions)
Can you get a VPS for free?
No, you can't get VPS for free. However, hosting services like Kamatera and Vultr offer a free trial to test their servers.
Is VPS cheaper than AWS?
Yes, VPS will cost you less than AWS. Moreover, unlike AWS, they also have predictable pricing.