If you are concerned about your website's security, two proven ways can help protect your WordPress website.
Choosing a secure hosting service that follows industry best practices in security.
Reinforcing your website security with a powerful third-party security service.
When it comes to WordPress security, SiteGround Security and Wordfence are the two most popular options. Both these plugins offer a robust set of high-end security features that keep your website safe.
SiteGround Security Vs Wordfence? What should you opt for? If you aren't sure which of these two options is the best fit for your website, this article will help you compare them both based on the value they offer. Sounds good? Let's dive in.
SiteGround Security Vs Wordfence – An Overview
In this section, let's understand what is SiteGround Security and what Wordfence is.
SiteGround Security
SiteGround Security is a powerful plugin that provides the toolset to strengthen your WordPress website and keep it safe from potential hackers, malware, and other malicious activities.
The plugin is free to download and has the best WordPress applications hosted at SiteGround. It also comprises valuable tools that notify a website owner about any suspicious activity or if the website has been breached.
Key Features
Custom login URL: The plugin allows you to change the default login URL, which can help prevent malicious attacks. Check if the option to change your default sign-up URL is enabled for your WordPress website.
Login access: Limit the number of users accessing the login page to a particular IP or multiple IPs. This can help prevent brute-force attacks and malicious login attempts.
Two-factor authentication: Strengthen your login security and prevent unauthorized access by using 2-factor authentication.
Limit login attempts: Set the number of times users can try to log in to your IP using incorrect credentials. When they reach the limit, the IP will automatically log the user for an hour.
Disable XML-RPC: Disabling XML-RPC protocol will prevent WordPress sites from communicating with third-party systems, which can minimize the number of malicious attacks.
Advanced XSS Protection: Add an extra layer of protection against XSS attacks by enabling this feature.
Disable RSS and ATOM Feeds: Prevent the risks of content scraping and other attacks by disabling RSS and ATOM Feeds.
Post-hack actions: In case your website is hacked, SiteGround Security helps to reduce the damage by allowing you to reinstall all the free plugins, Log Out All Users, Force Password Reset, and get comprehensive WP-CLI support for all functionalities and plugin options.
Wordfence
Wordfence is one of the best WordPress security plugins available today that includes a malware scanner and endpoint firewall that were exclusively designed to safeguard WordPress websites.
With a comprehensive suite of high-end features, Wordfence is one of the best security options today. It comprises of Advanced Threat Defense Feed that powers this WordPress plugin with malware signatures, the latest firewall rules, and malicious IP addresses. It runs at the endpoint, offering enhanced security as compared to cloud firewalls.
Key Features
Advanced manual blocking: Efficiently and quickly block all malicious networks as well as robots or suspicious human activities.
Leaked password protection: Secure your WordPress site against malicious attacks that use password information through data breaches. It also allows you to block all the logins that are using the wrong passwords.
Live traffic: Track website visits and hack attempts that you would not get in other security packages in real-time – the origin of a visit, time of the day, and their IP addresses.
Two-factor authentication: This is one of the most secure authentication forms available, allowing you to deter brute force attacks permanently.
Country blocking: This is a premium feature that allows you to block countries that are engaged with malicious activities.
Repair files: If your WordPress website gets hacked, the plugin will use source code verification to help you recover from the damage. The feature allows you to check changes in core, plugin, and theme files and helps repair them.
WordPress firewall: Web Application Firewall helps detect and block malicious traffic. It cannot be hacked, is fully encrypted, and does not leak data. WAF has an integrated malware scanner that blocks all requests containing malicious content or code.
WordPress Security Scanner: The advanced scanner thoroughly checks core files, plugins, and themes for bad URLs, malware, malicious redirects, SEO spam, and code injections. Regular content safety checks help detect suspicious content and dangerous URLs in your posts, comments, and files.
Pros & Cons
Here is an insight on the pros & cons of both SiteGround Security and Wordfence. 
SiteGround Security Pros & Cons
Pros of SiteGround Security
Safeguard your WordPress website against malicious attacks like brute force, common malware, and other security issues. Deleting your default readme.txt or hiding your WordPress version will make it difficult for crawlers to identify that you are using WordPress.
Login security is further strengthened by using two-factor authentication and getting protection against unauthorized access.
Tracking unknown visitors activity becomes simple and hassle-free with SiteGround Security's detailed Activity log. It helps detect bad IP addresses that are trying to access your website.
Do you think your website is hacked? The security plugin provides a set of actions in the Post-hack section that enables you to detect any suspicious activity and take measures to prevent the damage.
Prompt customer support and a host of features that match your expectations.
Cons of SiteGround Security
Cannot be used with other security plugins.
More security features are available with iThemes Security, Wordfence, or Sucuri. SiteGround Security isn't a comprehensive WordPress security plugin yet.
Check SiteGround Security Plugin

Wordfence Pros & Cons
Pros of Wordfence
Optimized for superior performance, with a comprehensive suite of features that ensure maximum protection against malware, bruteforce attacks, and other malicious activities. Wordfence Premium has more advanced features, while the free version also includes a host of settings, options, and features.
Wordfence plugin is updated regularly and powered by Threat Defense Feed that brings the latest firewall rules and malware signatures to keep the website safe from many types of threats.
The firewall plugin runs at the endpoint, which means it integrates deep into WordPress – ensuring enhanced protection like never before.
Malware scanner that is capable of detecting a wide range of online threats like SEO spam, backdoors, bad URLs, code injections, or malicious redirects. Wordfence is one of the most comprehensive WordPress security plugins available.
Excellent customer support is available for both free and premium users.
Cons of Wordfence
A host of features and options means it has a steep learning curve, which can be confusing to start with.
For free users, malware signatures and firewall rules get updated only every 30 days. In the meantime, a new threat may emerge and pose a serious threat to your website.
Does not include an automated website cleanup tool.
Download Wordfence

SiteGround Security vs. Wordfence: Pricing Comparison
Now that we have compared SiteGround Security and Wordfence based on their features, pros, and cons, let's have a look at who steals the show with their pricing.
SiteGround Security
SiteGround is a "free" WordPress security plugin that can be used by any website or application, even if they are not hosted with SiteGround.
Wordfence
If you are considering using the Wordfence security plugin, there are two options – sign up for the "free" version or upgrade to "premium." By upgrading to the premium version, you get access to more features like real-time IP blacklist, real-time malware signature & firewall rule updates, threat intelligence, endpoint firewall protection, country blocking, reputation checks, and much more.
The cost of Wordfence Premium varies depending on the number of licenses you buy. The more licenses you buy, the more you can save. You can also add additional years to the licenses and save further. The chart given below shows Wordfence Premium pricing.
Even though you need to pay $99 per license, there is a host of advanced security features you get at that price. And it is worth it if you are serious about the safety of your WordPress website.
Do You Need Wordfence with SiteGround Hosting?
If you are already using Wordfence (free or premium), you can think about using it with SiteGround.
According to the SiteGround team, "You don't need Wordfence anymore because the SiteGround plugin will handle your security." The hosting company also recommends not using other security plugins when you use SiteGround Security. That is because if another plugin releases an update, it may affect the functioning of the plugin. Therefore, it is recommended to disable all other security plugins you might be using when you sign up for SiteGround Security.
SiteGround Has Released a New Security Plugin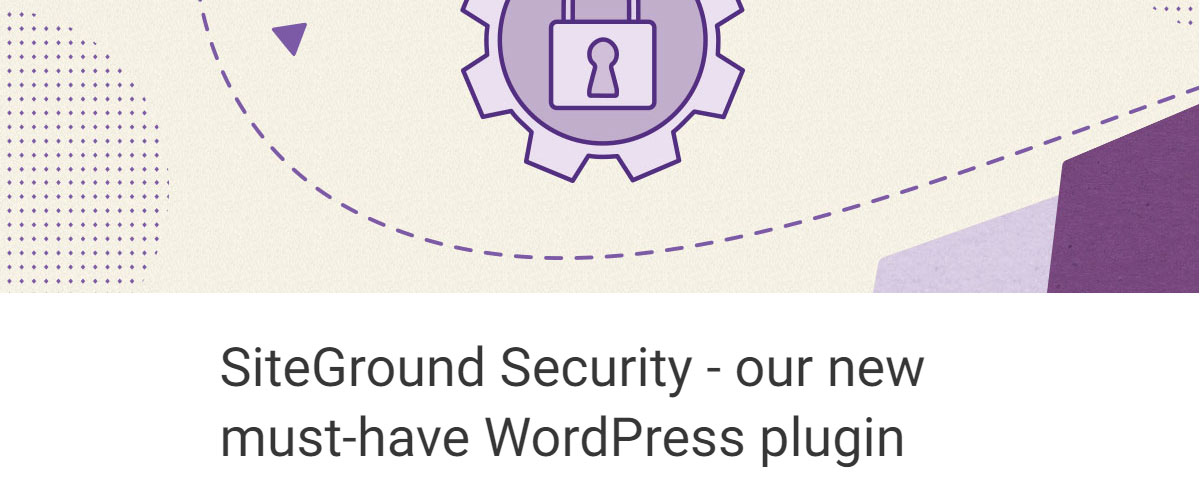 In June 2021, SiteGround introduced a new WordPress Security plugin. It can be downloaded for free and it can be used by any website, whether it is hosted with SiteGround or not.
However, if your WordPress application is hosted at SiteGround, the plugin is pre-installed and provides a simple way to safeguard your website from malicious attacks. This plugin is available as any other WordPress plugin through the WordPress Plugin Repository.
Features
Protect your website against common attacks. Easily switch on the necessary rules that harden the website security and protect against malware, bruteforce, and other security problems.
Strengthen the login security; apply several security measures that protect your login area from unauthorized access.
Efficiently monitor your admin area through the activity log. This enables you to pay close attention to things like bad IP addresses that try to access your website and you can also keep a watch on the registered users that are executing tasks that they are not supposed to.
Take the necessary action if you suspect that your website might have been compromised. There is a 'post-hack' section in this plugin that enables you to perform a set of actions that are useful if your website security is compromised.
The Final Verdict
When it comes to comparing SiteGround Security with Wordfence, both are good WordPress security plugins. However, the latter has been around for a much longer time and the company solely focuses on providing high-end security to WordPress users.
So, to conclude, Wordfence is the top choice when it comes to ensuring the improved protection and safety of your WordPress website. However, it is important to take into consideration that this plugin consumes a lot of resources (RAM).
Therefore, if you are hosted on SiteGround "GrowBig" and "GoGeek" plans, only then you can use Wordfence because these hosting plans come with higher RAM size and resources. Therefore, there will be no issues with website speed if you are using Wordfence with the higher SiteGround plans.
And if you are just starting with SiteGround "Starter" plan, then the SiteGround Security plugin will be an ideal choice for you.
Read Also:
Frequently Asked Questions
📌 Is SiteGround Hosting Secure?
SiteGround is one of the best hosting providers available and they take a dedicated approach towards ensuring high-end security for their users. Here's how they keep their servers and your websites secure:
All servers are powered by the latest PHP 7 version and advanced security fixes.
Sophisticated intrusion detection/prevention systems that help deter malicious attacks and bots.
Apache runs in a chroot environment through suExec.
Shared servers are pre-installed with ModSecurity, while firewall rules are updated every week to protect the websites from common attacks.
Up-to-date software versions, with the latest security patches, to provide database services.
Hassle-free and simple auto-updates available for WordPress core version, themes, and plugins.
They follow strict guidelines regarding who can access your data and also keep a complete report for such access.
Constant monitoring of modules and applications to identify and prevent vulnerabilities.
And recently, by introducing the new SiteGround Security plugin, they have further enhanced their security measures.
📌 Does SiteGround have a firewall?
To ensure high levels of DDoS protection for websites hosted on SiteGround, it has a hardware firewall that filters traffic. There is also a local firewall that is designed on IPTables and has more complex traffic monitoring features and functions. In addition to firewalls, SiteGround also checks if there are a large number of failed login attempts to an IP address and filters them.
SiteGround Security plugin also functions as a pretty solid firewall, with improved features to keep your website protected from common attacks and other malicious activities.
📌 How do I protect my website on SiteGround?
Other than SiteGround's approach to keep your website protected, here are certain things you can do to keep the website secure:
Update your software regularly, including all 3rd party software installed as well as the OS.
All web applications must be updated, including all components, addons, and modules.
Use the SiteGround Optimizer plugin to configure the WordPress site to optimally work with an SSL certificate and ensure the traffic goes through HTTPS.
Avoid using themes, extensions, modules, and scripts from non-official torrents and websites.
Use the SiteGround Security plugin.